From October 2020 our meetings will take place monthly on Saturday afternoons at:
St Paul's Parish Rooms
Reading Road
Wokingham
RG41 1EH
Although we usually welcome visitors to our meetings, whilst we have to be socially distanced, our meetings are for members only. Members have to pre-book their place at each monthly meeting to ensure we can restrict the numbers to the legal limit and have space to social distance.
Saturday workshops take place between 10.00 am and 4.00 pm at St Paul's Parish Rooms.
Workshop places must be booked and paid for in advance.
To check workshop availability and to book places please contact Jo at johet35@gmail.com
Workshop cost for members is £40. Visitors are welcome if space allows; workshop cost for visitors is £45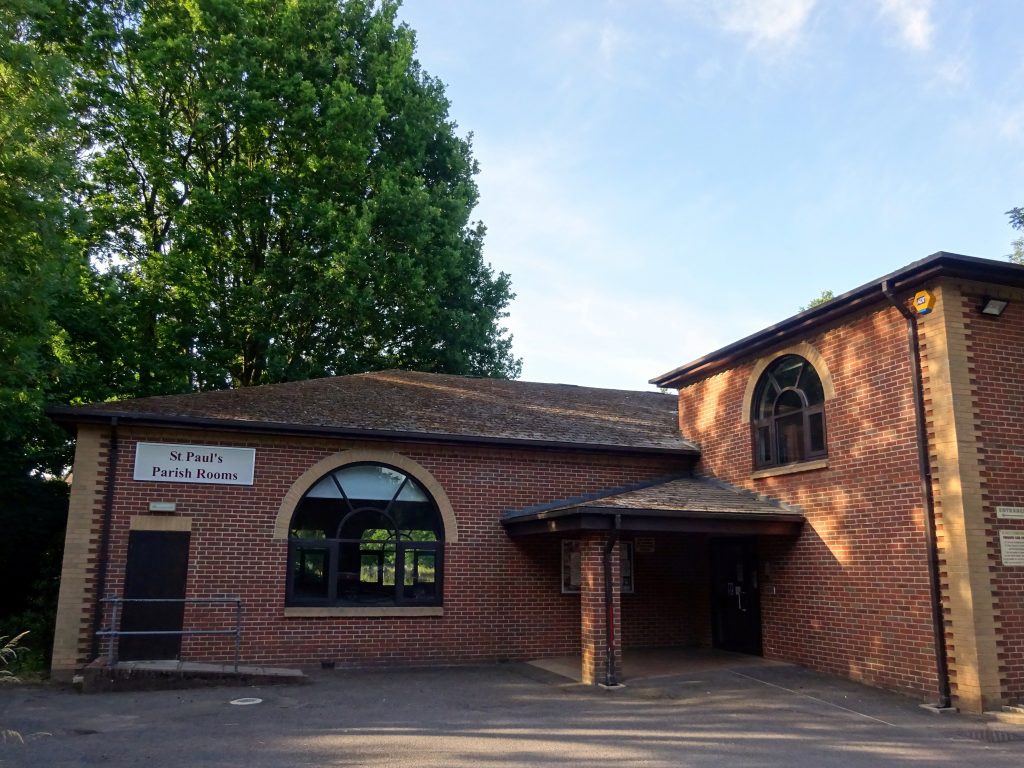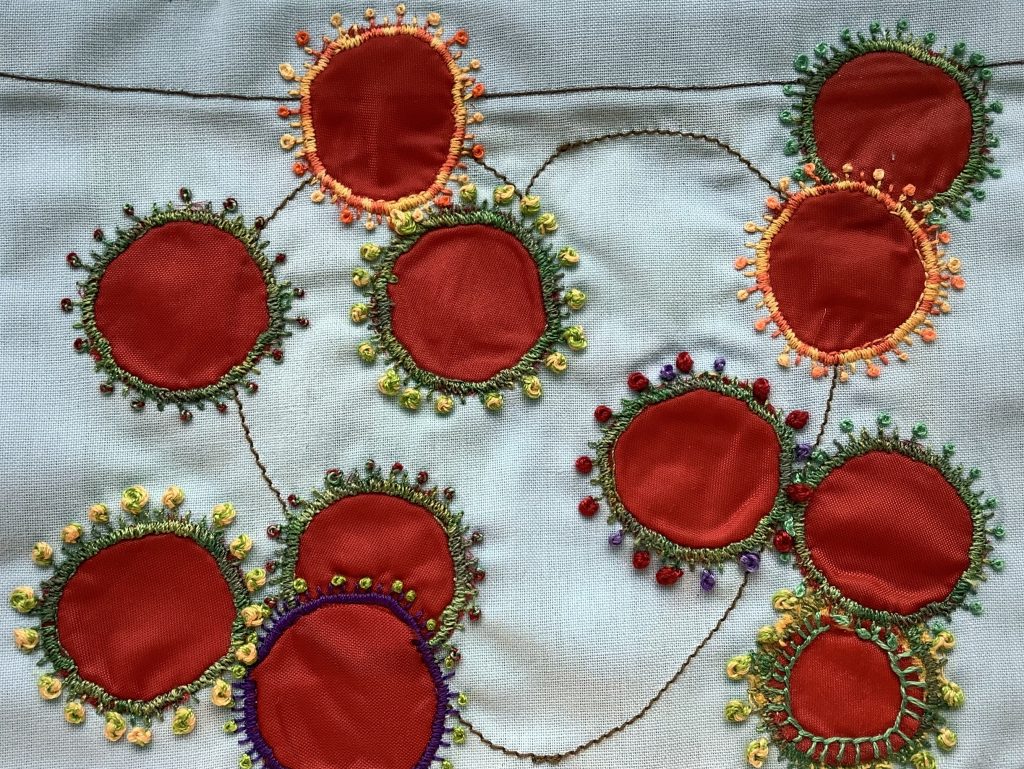 BELOW WE SHOW DETAILS OF OUR ACTIVITIES. THESE WILL GO AHEAD IF GOVERNMENT RESTRICTIONS ALLOW, BUT MAY HAVE TO BE MODIFIED OR CANCELLED
New December 2020 Workshop
New Angie Hughes Zoom Workshop called 'Foils and Frenzy' on 12th December from 2pm to 5pm
It is not possible to run Angie Hughes's workshop 'Inspired by Hundertwasser' on the 7th November. If you have paid for this workshop please email Jo at johet35@gmail.com and a refund will be made.
The good news is that Angie is running a workshop for members and friends via Zoom on Saturday 12th December. It's entitled Foils and Frenzy and will consist of learning basic foiling techniques, using resists, mixing materials and ideas for machine embroidery. The workshop will last 3 hours and participants can either work alongside or simply watch and then follow the recording which you will have access to afterwards. Participants will also be sent a pdf with all the instructions. Please book your place on this Zoom workshop with Jo at johet35@gmail.com 
Cost for members £15     Cost for non members £20           Advance payment required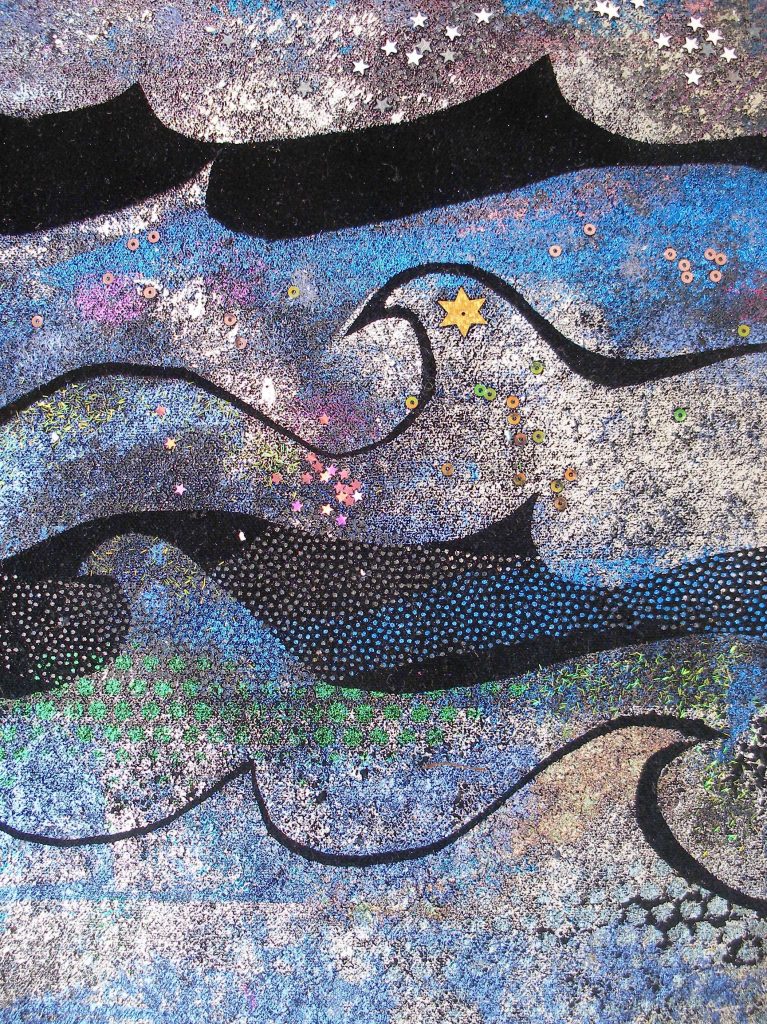 'Gilding the Lace' by Jo Mabbutt is on Saturday 27th February at 2.30 pm
Jo talks about her development journey from decorative painter to lace gilder.
Her initial training was in wood graining, marbling, gilding, specialist paint finishes and interior design.  She upskilled at Central St Martin's College of Art and developed a totally new direction bringing new life to antique and vintage lace, crochet and tatting by gilding with real metal leaf.
Jo produces framed gilded antique lace and prints, jewellery, fashion accessories, interior items, Christmas decorations and cards.  She undertakes commissions gilding clients' own treasured lace, produces contemporary framed gilded lace and prints for show homes and collaborates with other designers.  Jo also gives specialist workshops all over the country on various metallics themes.
www.jmdecorativeart.co.uk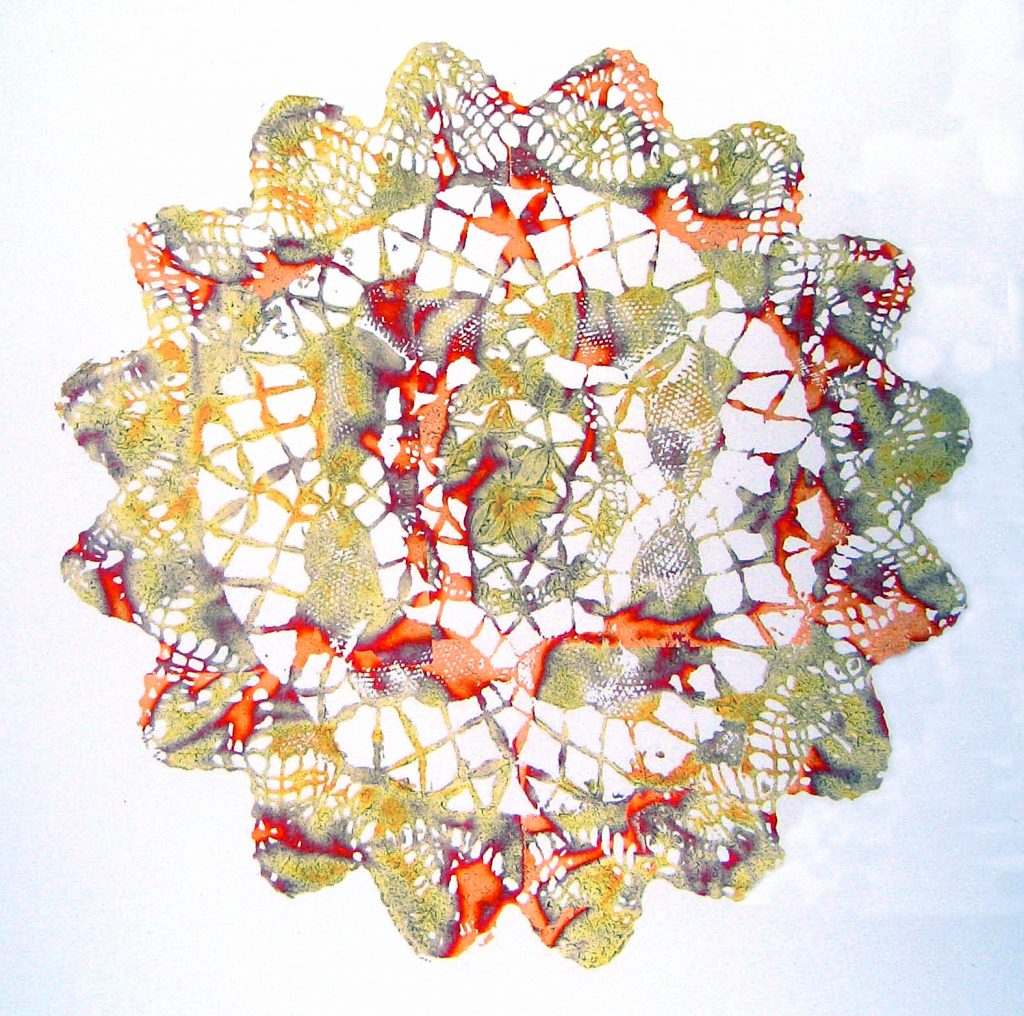 'In Stitch You' with Harriet Riddell' is on Saturday 20th March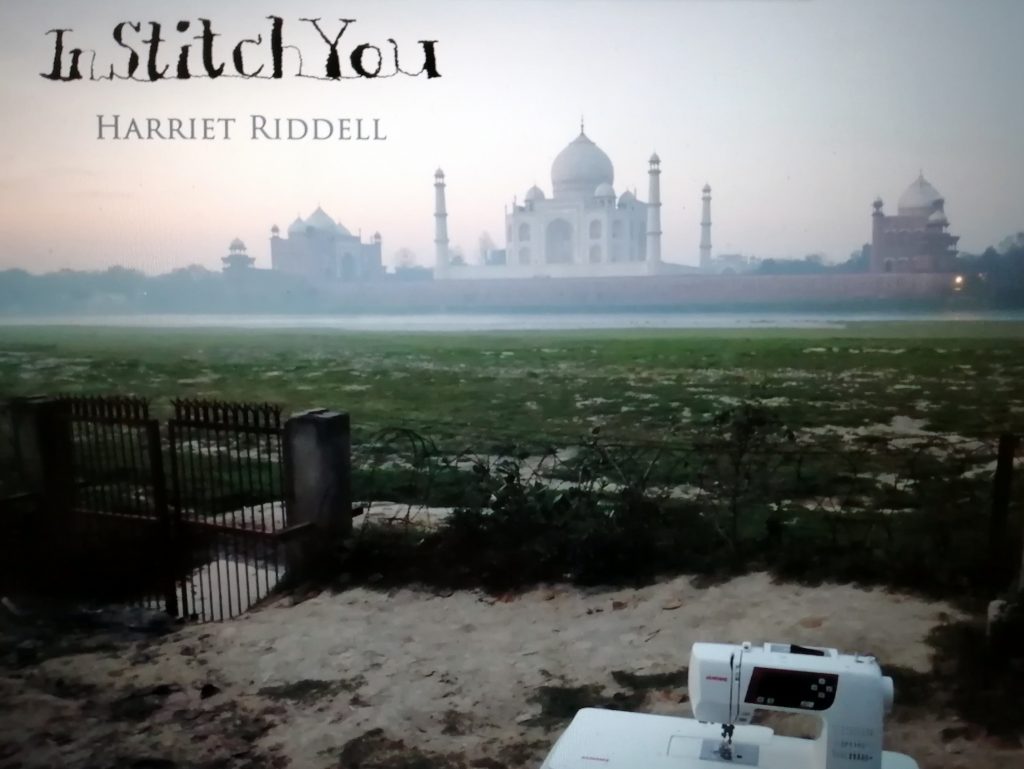 Observational drawings using a sewing machine.
https://www.harrietriddell.com/
'Members' Meeting' is on Saturday 20th March at 4.00 pm
There will be a 'show and tell' by members.
 There may be a sales table at the meeting, good opportunity to buy and try new threads, maybe buy books etc?
If you are feeling lucky, why not enter our raffle?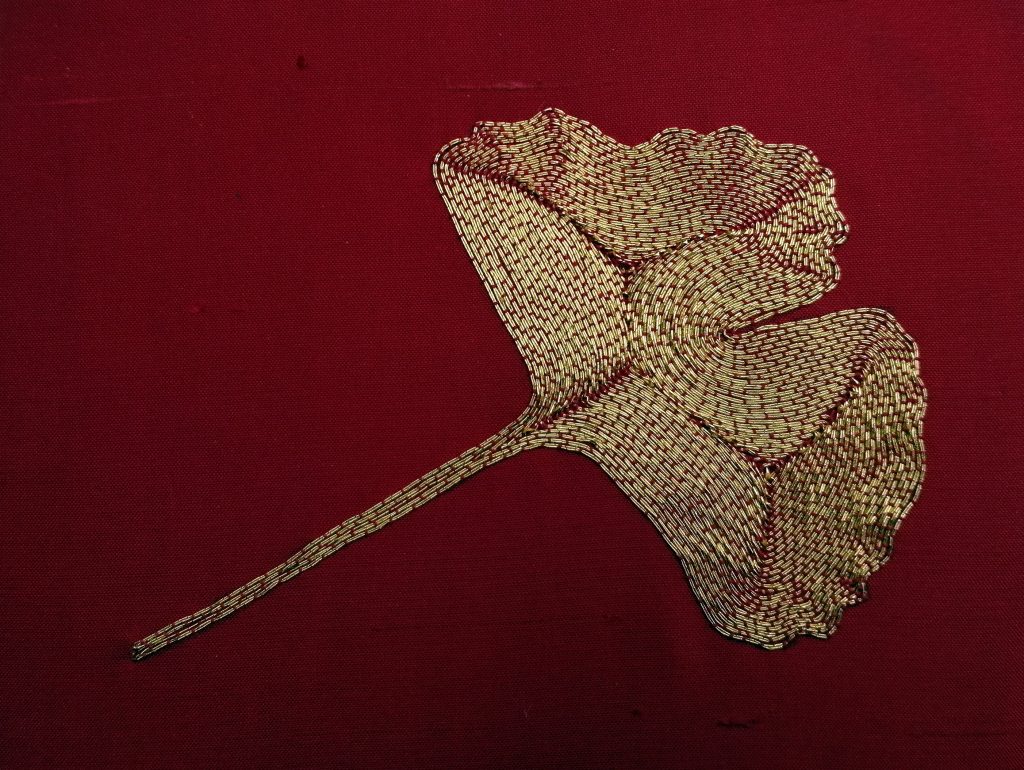 'How does your garden grow?' by Hilary Jenkins is on Saturday 24th April at 2.30 pm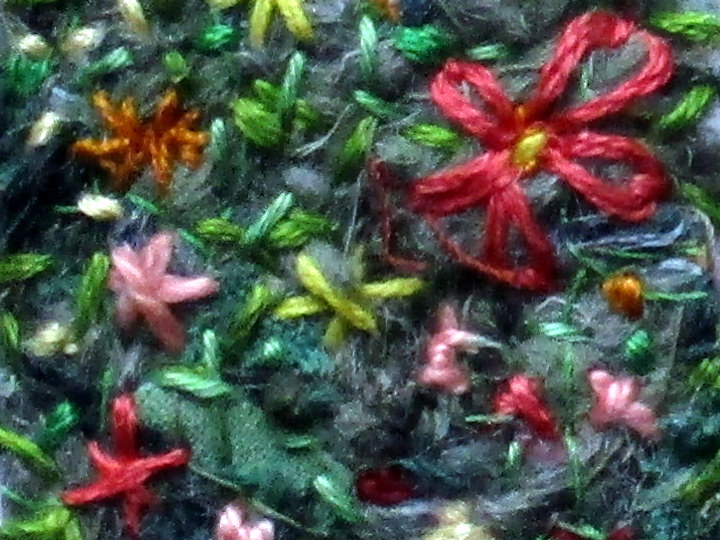 Themed workshop based on the garden as inspiration for stitch.
After a brief introduction, you will be able to work on a provided background (about 1 inch square) using principally straight stitch variations. It should be possible to complete this patch of flower/leaves during the meeting; it could be used on a card, to decorate a book cover, make a brooch or small panel. All materials will be provided.
'Metallics for textiles' with Jo Mabbutt is on Saturday 15th May
This workshop will introduce a range of metallic media, including real metal leaf, metallic powders and metallic transfer foil, suitable for use on a variety of textiles including Lutradur. 
Students will learn how to use the different adhesives to attach the metallic media and have the opportunity to explore techniques to colour and texture the surfaces resulting in more intriguing textures.  Experimental use of layering and manipulating will produce a wide collection of dramatic starting points for further embellishment.
Jo brings all the specialist materials for the workshop and there is a material fee of £6 per person.
www.jmdecorativeart.co.uk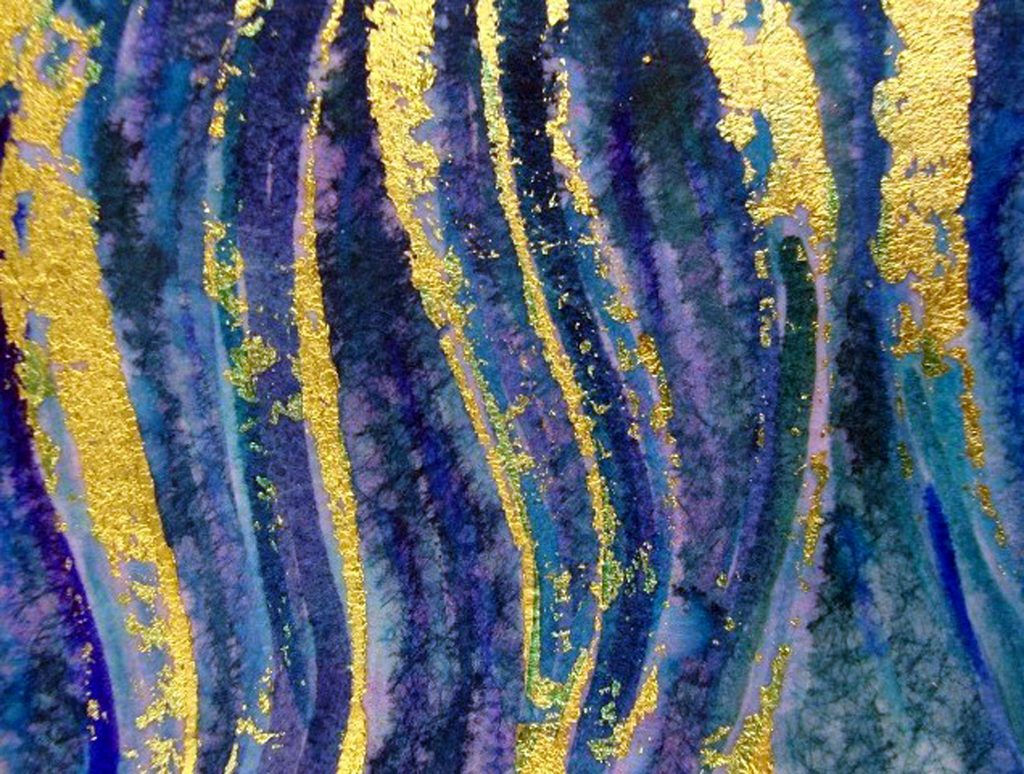 'A History of British Embroidery' by Anne Hellyer is on Saturday 29th May at 2.30 pm
An overview of ten centuries of embroidery
June Meeting is taking place in July on Saturday 3rd July at 2.30pm
'Experimental Textiles' by Nikki Parmenter is on Saturday 24th July at 2.30 pm Zoom Meeting!
Nikki will talk about the development of her work from paper to wood, then mixed media to textiles. Nikki will show lots of examples and explain her approach to developing and realising a piece of work.
She will describe her influences and the practicalities of making pieces on a large scale. Nikki hopes that members will be encouraged to ask lots of questions and hopefully be influenced by some of the items shown!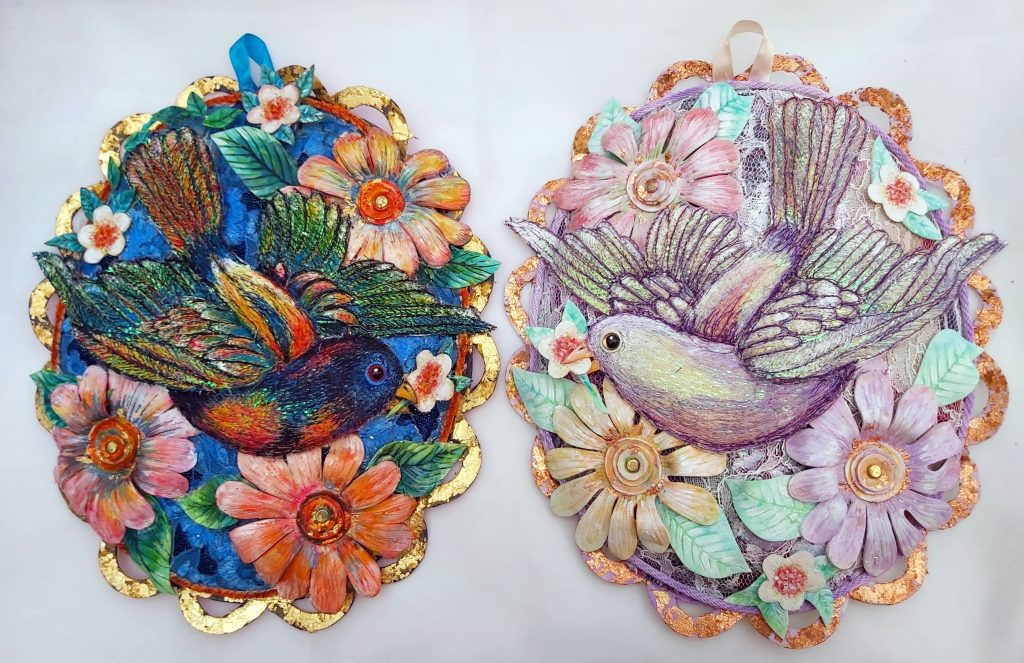 August 2021, this is an extra meeting and is on Saturday 28th August at 2.30pm
'Stitching the Forest Floor' with Amanda Corbett is on Saturday 25th September at 2.30 pm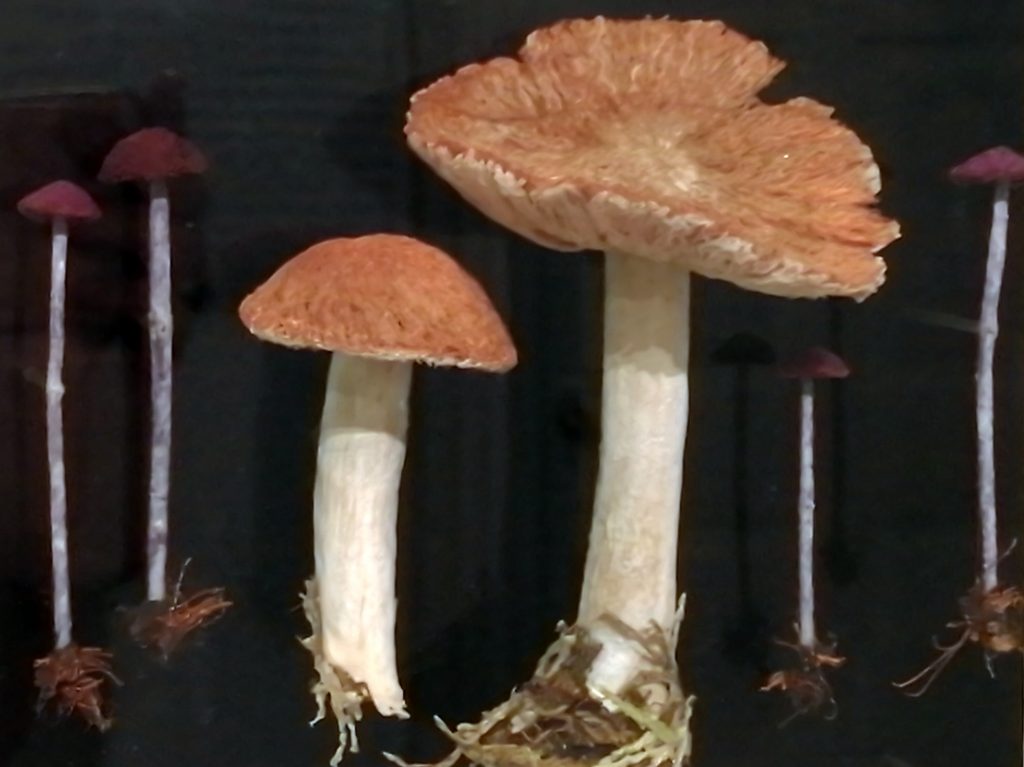 Using thread, paper and silks to create 3D sculptures of fungi, moss, lichen and bark
'New directions in Goldwork' by Georgina Bellamy is on Saturday 30th October at 2.30 pm
Georgina Bellamy graduated from the London College of Fashion with a BA in surface textiles. She has created embroidery for various fashion designers and her work has been featured on TV and in magazines.
Georgina's work featuring reindeer, frogs, pandas and more will amaze you. Her three- dimensional intricate goldwork sculptures are exquisite. Her aim is to bring new life to the age-old tradition of goldwork embroidery back to life.
www.thatembroiderygirl.com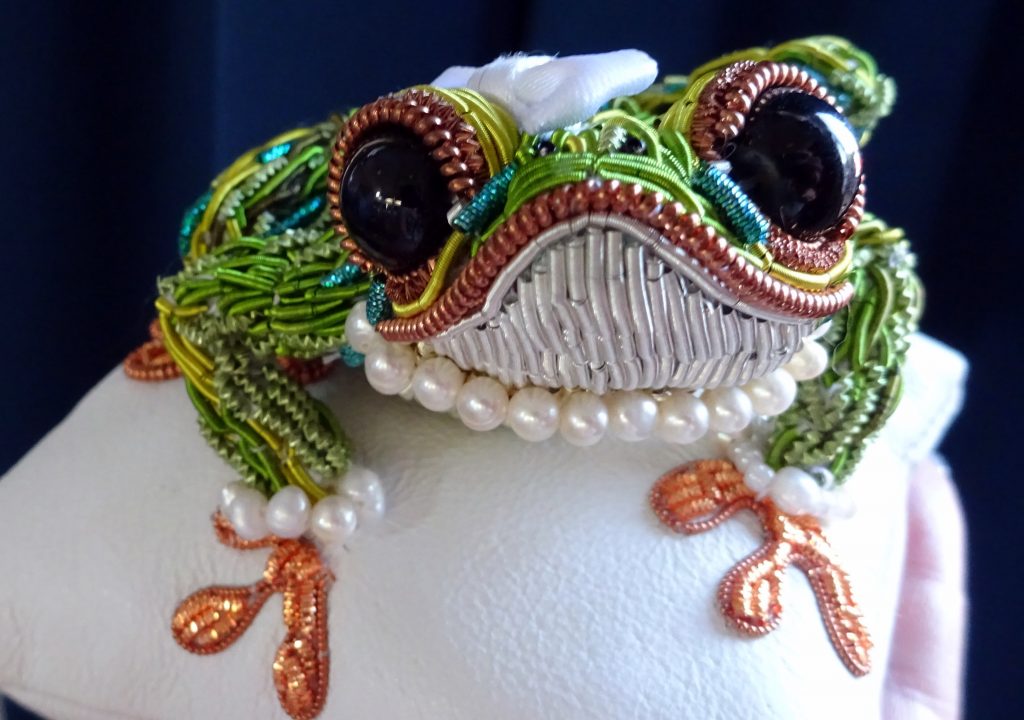 November Meeting is on Saturday 27th November at 2.30pm
Stitching in Wokingham Library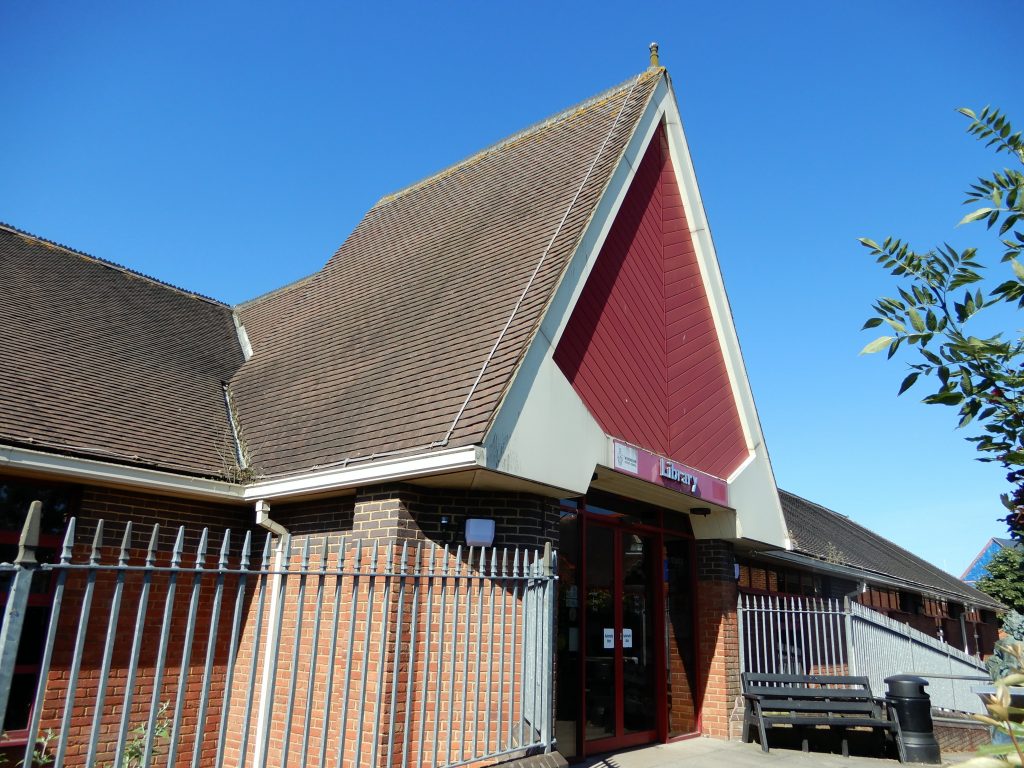 Whilst we have not been able to meet in the library, we have been meeting in Howard Palmer Gardens to stitch and chat whilst being socially distanced. The Rule of Six means this activity is cancelled until further notice.
Wokingham Embroiderers has been running a Travelling Books project for several years and many members participate. It is a 'round robin' with A5 sketch books circulating around contributing members. 
Each member begins with their own sketch book, creating a page and a cover for the book. Some members even make a bag for their travelling book. It is then passed onto another person in the group until each member of the group has completed a page.
Then our travelling books continue to circulate until eventually all pages contain work by our textile artists. At this point they are returned to their owners and if they wish the member starts a new travelling book.