Our meetings take place monthly on Saturday afternoons at:
St Paul's Parish Rooms, Reading Road, Wokingham, RG41 1EH
Although we usually welcome visitors to our meetings, whilst we have to be socially distanced, our meetings are for members only. Members have to pre-book their place at each monthly meeting to ensure we can restrict the numbers to the legal limit and have space to social distance.
Saturday workshops take place between 10.00 am and 4.00 pm at St Paul's Parish Rooms.
Workshop places must be booked and paid for in advance.
To check workshop availability and to book places please contact wokinghameg@outlook.com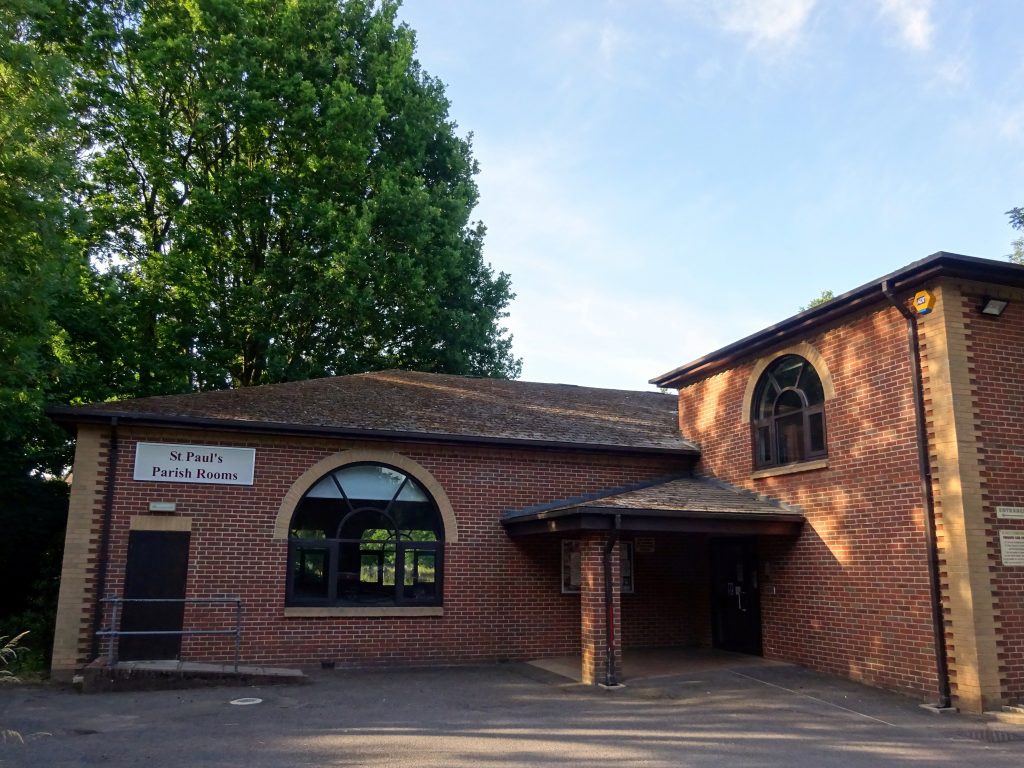 All workshops are open to visitors at a cost of £5 per visitor please contact us via the contacts page if you would like to book on to a session
March Meeting – Loetitia Gibier - Goldwork Embroidery on Saturday 18th March at 2.30pm
St Paul's Parish Rooms, Reading Road, Wokingham RG41 1EH
Loetitia Gibier-  Korry is my nickname. It comes from the word Korryghan, a little Celtic devil.  I am a textile artist and an embroidery tutor specialised in hand embroidery, Stumpwork, Goldwork and Silk Shading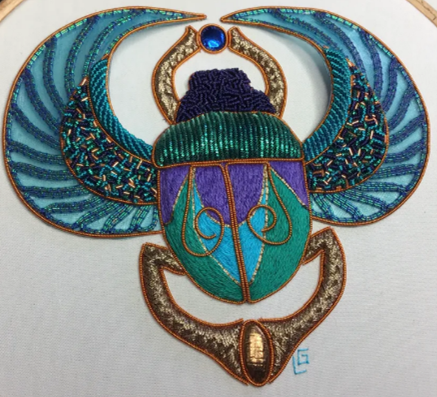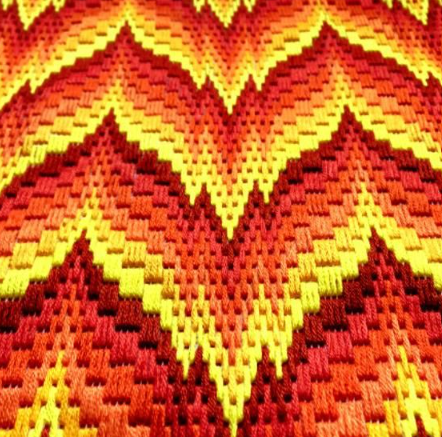 April Meeting - Bargello Coaster - Saturday 29th April at 2.30 - Mini Workshop
St Paul's Parish Rooms, Reading Road, Wokingham RG41 1EH
Bargello (needlework) Bargello is a type of needlepoint embroidery consisting of upright flat stitches laid in a mathematical pattern to create motifs. The name originates from a series of chairs found in the Bargello palace in Florence, which have a "flame stitch" pattern. Traditionally, Bargello was stitched in wool on canvas
May Meeting - Boro Stitching - Hilary Jenkins - Saturday 20th May at 2.30
St Paul's Parish Rooms, Reading Road, Wokingham RG41 1EH
 Boro is essentially the practice of using a simple running stitch (a sashiko stitch) to reinforce a textile item using spare or would-be-discarded scraps of fabric. It is a practice that grew out of necessity in medieval Japan, and has evolved, four centuries later, into a distinctively gorgeous textile artform. Like sashiko itself, boro combines practical functionality with beauty. Hilary Jenkins will take us through the art of Boro.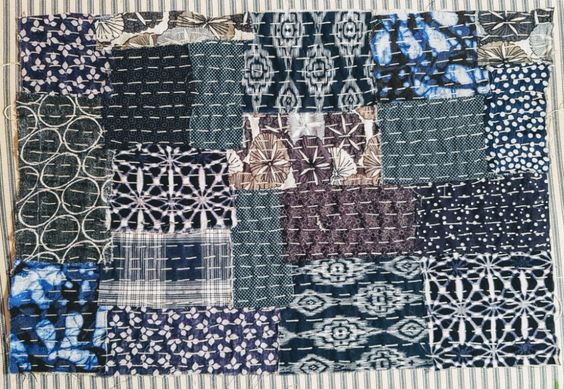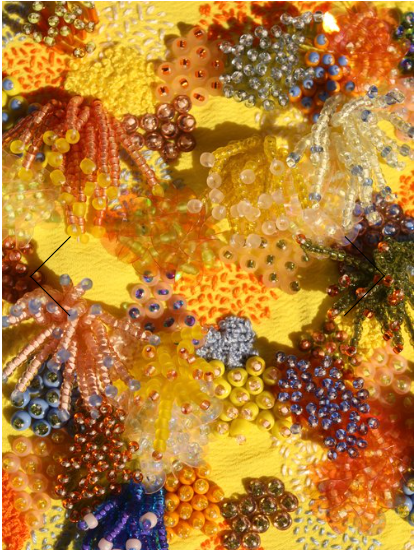 Bead Embroidery Workshop - Imogen Melissa on Saturday 3rd June at 10am to 4pm
St Paul's Parish Rooms, Reading Road, Wokingham RG41 1EH
In 2020 I launched Imogen Melissa with the aim to modernise perceptions of embroidery. Creating intricate embroideries with playful colour combinations to bring sunshine and joy to our homes!
The bundles are designed to give you a taste of hand embroidery and beading, whether you are a total newbie or a craft lover looking to try something new. The colour palettes have been curated for you, sourcing the perfect beads and sequins to play with and get creative! https://www.imogenmelissa.com/about-imogen-melissa
Full details will be published in the newsletter
June Meeting - Anne Kelly - Textile Artist - Saturday 24th June at 2.30
St Paul's Parish Rooms, Reading Road, Wokingham RG41 1EH
Anne is an award winning Canadian born, UK based artist, author and tutor. Her multilayered and densely stitched textiles have been likened to 'small worlds'. Trained in Canada and at Goldsmiths College in London, she creates wall hangings and objects using a mixture of mixed media collage and hand and machine embroidery. https://annekellytextiles.com/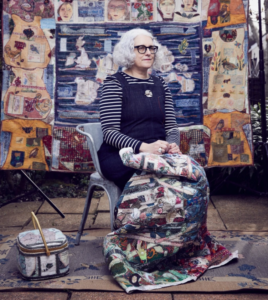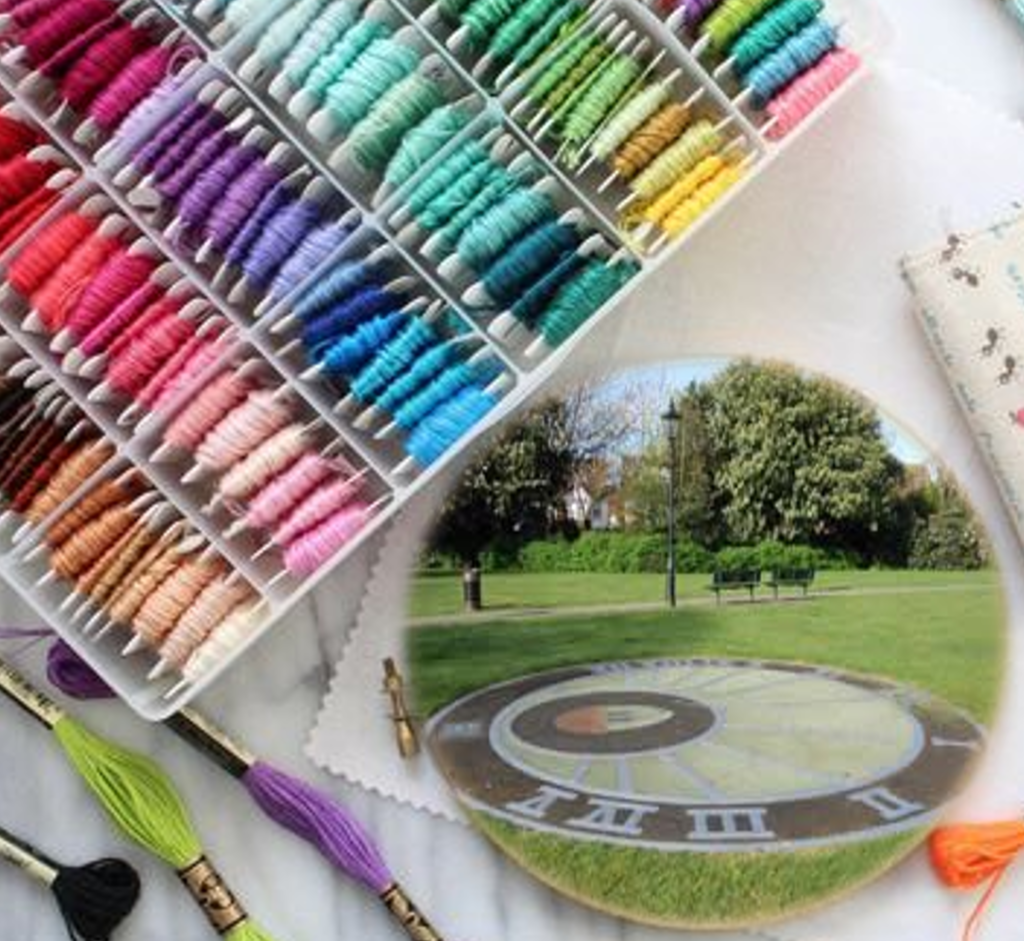 July Meeting - Stitching in the Park - Saturday 29th July at 2.30
Howard Palmer Gardens,  Howard Road, Wokingham RG40 2BX 
Meet at the park for a general stitch session, show and tell and CAKE if the weather permits Let's relax and share some of the creativity from the past few months. Bring your own drink and chair.
August Meeting - Hazel Stace - Kanzashi Flowers - Mini Workshop - Saturday 26th August at 2.30
St Paul's Parish Rooms, Reading Road, Wokingham RG41 1EH
Kanzashi flowers are often used as hair ornaments and can also be attached to purses, keychains, or clothing for a decorative touch. You can use any kind of fabric, from cotton to chiffon, depending on your personal preference. Hazel will be showing us how to make them. List of requirements will be provided in the news letter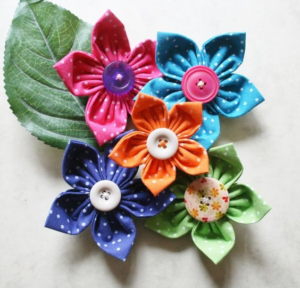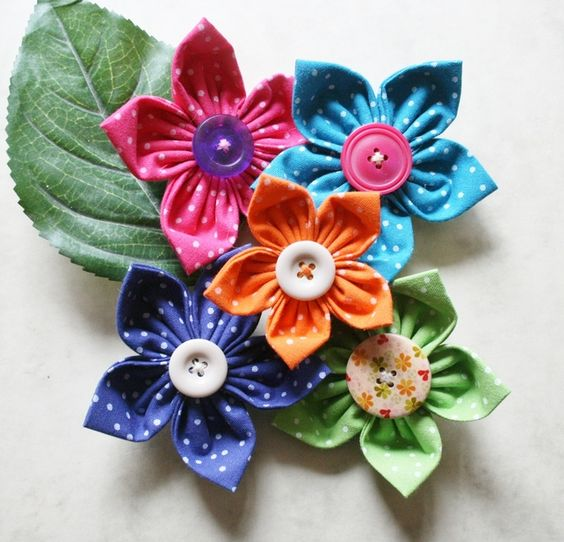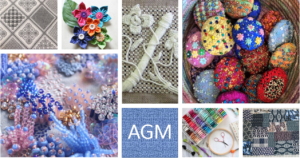 September Meeting - Show and Tell & AGM- Saturday 30th September at 2.30
St Paul's Parish Rooms, Reading Road, Wokingham RG41 1EH
We will have a chance to see what we have all been creating over the past months and have a catch-up with one and other. This will also include a short AGM
October Meeting - Sustainability in Textiles - Saturday 28th October at 2.30
St Paul's Parish Rooms, Reading Road, Wokingham RG41 1EH
Sue will be talking to us on the Sustainability in Textiles Sue dyes and screen prints her fabrics then works into them with machine and hand stitching.  More recently, she has been investigating sustainable fabrics from which to produce a range of scarves.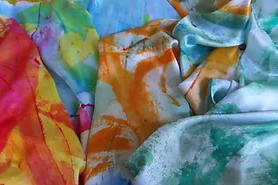 We are now looking at the programme for next year. So, if you have a suggestion please email us Contact Us

Wokingham Embroiderers has been running a Travelling Books project for several years and many members participate. It is a 'round robin' with A5 sketch books circulating around contributing members. 
Each member begins with their own sketch book, creating a page and a cover for the book. Some members even make a bag for their travelling book. It is then passed onto another person in the group until each member of the group has completed a page.
Then our travelling books continue to circulate until eventually all pages contain work by our textile artists. At this point they are returned to their owners and if they wish the member starts a new travelling book.
This project has restarted