New Working Party to take our branch forward
Three branch members have generously volunteered to join Linde to form a working party to take the branch forward until our next AGM on 25 September 2021. In addition, we are grateful to the members who have offered help on individual projects.
Marilyn Leach has kindly agreed to undertake the secretarial tasks and to be our contact with the Embroiderers' Guild headquarters. Val Martin has generously agreed to maintain our website and produce our newsletters. Dorothee Luke has stepped up to the role of Programme Secretary. Linde Merrick will continue as Treasurer and Membership Secretary. 
The new Working Party, below from the left: Dorothee, Val, Marilyn and Linde
Jessica Grady is speaking at our January meeting
We are delighted that Jessica Grady will be talking to us on the topic 'Journey into the Unconventional' at our January meeting on 30th at 2.30 pm. This will be a Zoom meeting.
Would you like any of these books?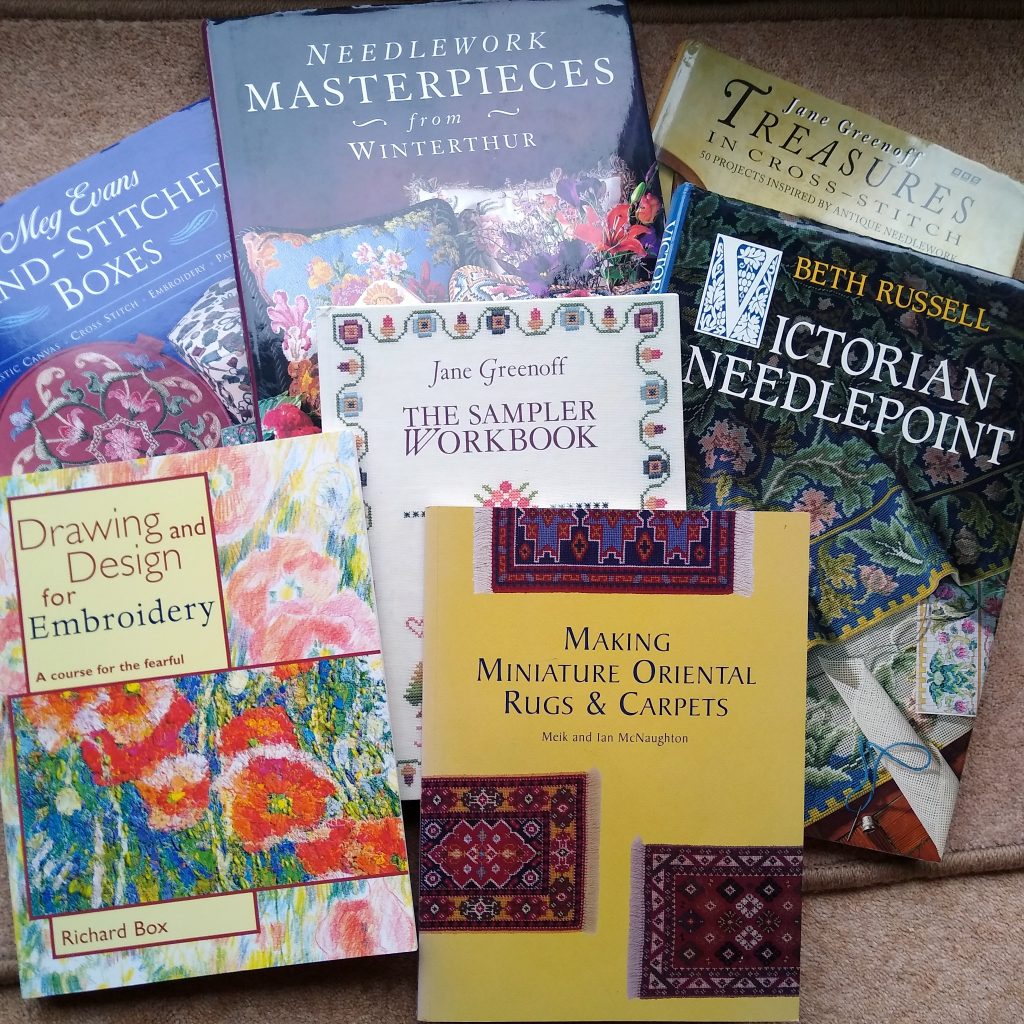 We have these books. Could you find any useful? You are welcome to any or all of the books, please just make a donation to the branch.
If you are interested in having any of these books, please contact Maggs at maggs@carver74.plus.com
Angie Hughes Zoom Workshop called 'Foils and Frenzy' was very enjoyable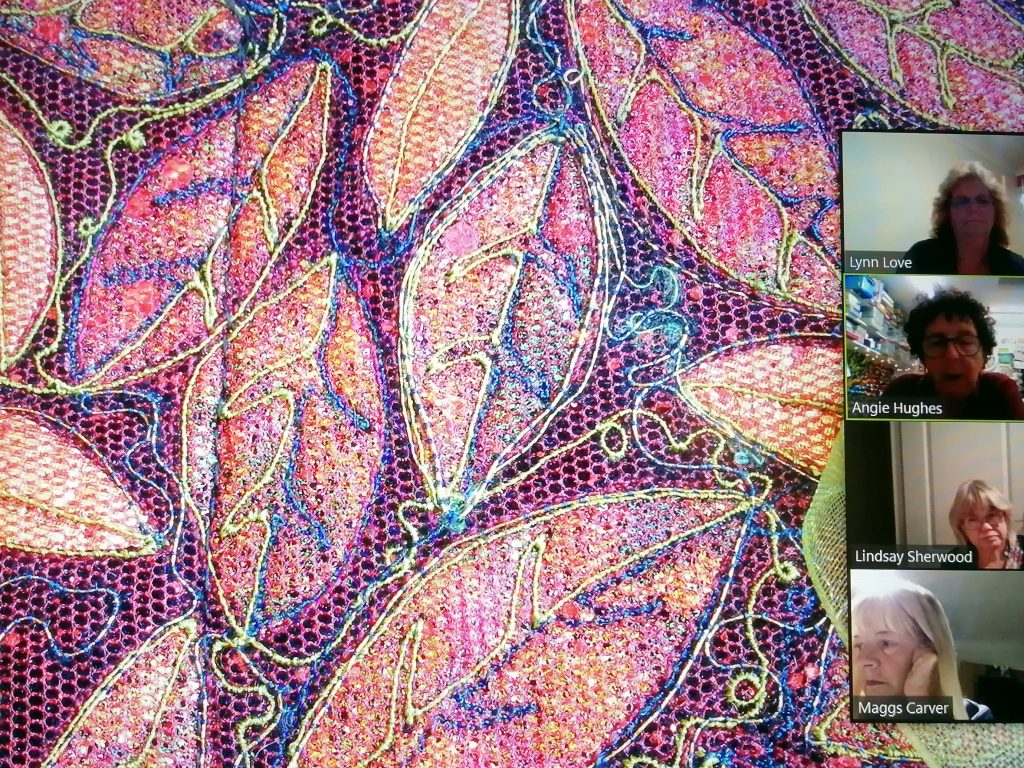 We had a fabulous workshop on Zoom on 12th December with Angie Hughes. It was all very relaxed and enjoyable.  Lots of research and experience of running Zoom workshops meant Angie knows great ways of delivering a workshop in the virtual world so did not disappoint. Some of us just watched and others worked alongside ………… we all have access to a recording of the workshop for future reference. Don't be surprised if some Charles Rennie Macintosh inspired works with transfer foils  appear in Travelling Books.
If you are interested in doing another workshop with Angie Hughes go to her website https://www.angiehughes.com/
Would you like any patterns for making women's clothing?
We have a number of patterns for a wide range of women's clothes. Could you find any useful? You are welcome to any patterns, please just make a donation to the branch.
As you can see from the photograph of a small number of the patterns, the items of clothing include skirts, blouses, trousers, jackets and dressing gowns. If you are interested in having any patterns, please contact Maggs at maggs@carver74.plus.com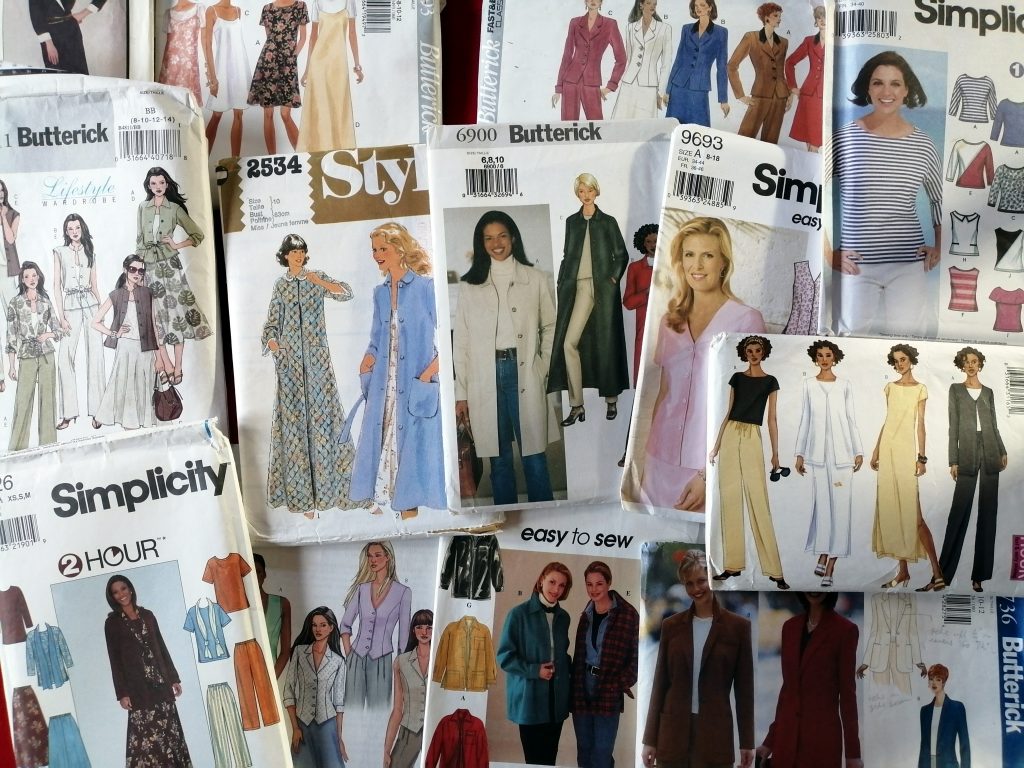 Date has been set for our Branch AGM 2021

Our AGM will take place at 2.30pm on Saturday 25th September. This will take place before our guest speaker, Amanda Corbett gives her talk on 'Stitching the Forest Floor' at 3pm.
Members' Challenge 2020: Bird
Congratulations go to Dorothy Luke and Susan Hammond, two winners of our Bird Challenge.  
The challenge was judged by textile artist Richard McVetis who said "So good to see so many entries and isn't it good to have embroidery to keep you sane in these crazy times.  All of them were really great"
Dorothy Luke's entry:  Bird of a feather flock together
"This is a well-known English saying that raises many questions..  Is it a good thing to partner only with people who are like us?… And what does ' like us' mean? What does it refer to? Clothes, social backgrounds, skin colours, values?…"
Sue Hammond's entry:  Tropical Toucan
"It's from A Year Of Embroidery by Yumiko Higuchi.
I chose it because I'm new to embroidery and chain stitch is my current favourite stitch!"
We were delighted that 19 members took up the challenge and submitted 24 entries in total.
Branch Summer Challenge 2019
We were delighted that Stitchery Do, our local stitching and knitting business kindly sponsored our branch challenge in 2019. The theme of the challenge was 'Reuse, recycle and up cycling'. This resulted in a very wide range of interpretations.
All thirteen entries to our challenge were displayed in the Stitchery Do shop in Wokingham.
Congratulations to our winners Jo Hetherington, Carol Hegarty and Sue Newport.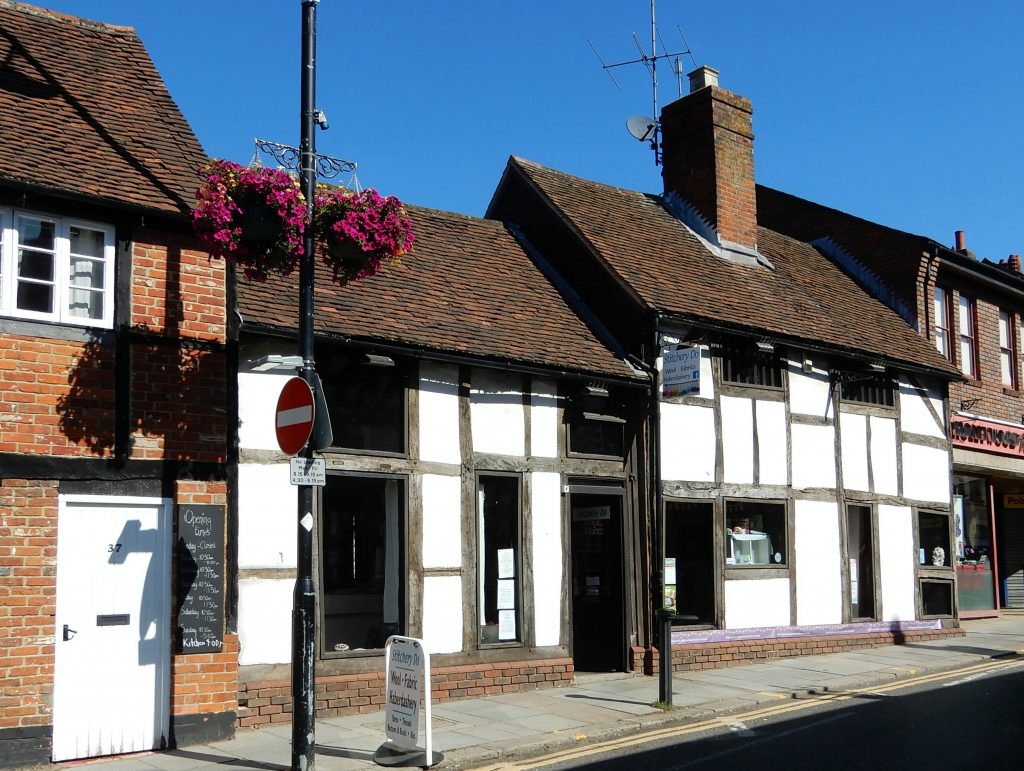 A STITCH IN TIME Exhibition during May and June 2019 in Wokingham Library
A Stitch in Time exhibition at Wokingham Library featured a wide range of embroidery including both hand and machine embroidered textile art. The exhibition was well attended and several people contacted the branch to purchase exhibits.
We have been asked to stage another exhibition at the end of 2020.