New venue and dates for our monthly meetings
From the end of October we will be meeting at St Paul's Parish Rooms on a Saturday afternoon once a month. The venue provides much more space and also offers a high degree of cleanliness which, for the moment, are both of high priority for members' safety. Details of our meetings can be found on the Programme section of this website.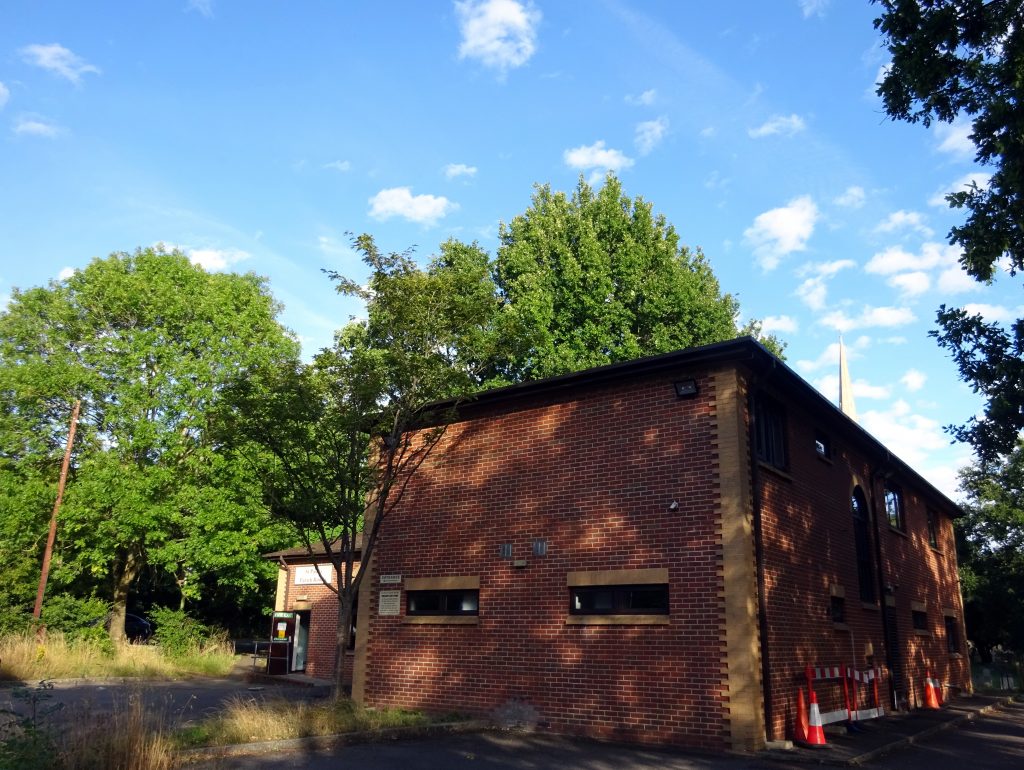 On 3rd October we ran our first workshop of the year 'Crewel and Unusual' with Fay Maxwell
Running a workshop during the pandemic is not without it challenges ……… and a lot of work by those organising it. After pouring over many government documents giving guidance on what can and cannot be done, completing risk assessments, working closely with the management of our Covid – 19 secure venue and communicating with all participants before the workshop and on the day, etc we had a successful workshop.
Thirteen attended and learnt a great deal from Fay Maxwell, who was brilliant at demonstrating to the group as well as sharing her expertise with individuals.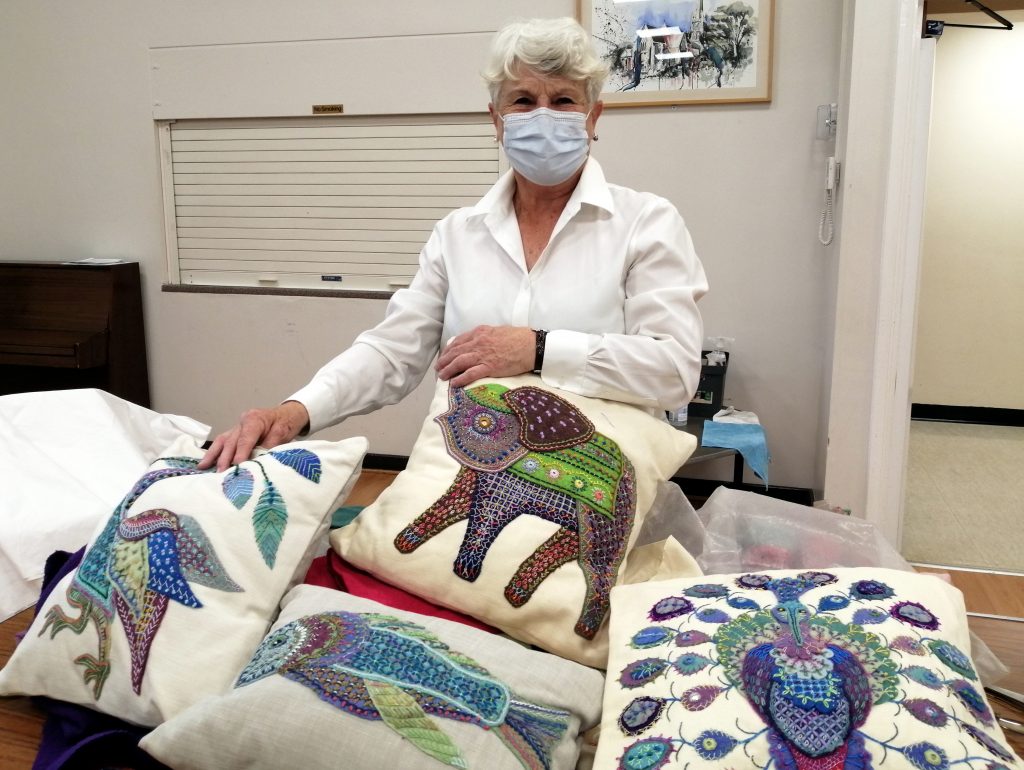 Everyone played their part on the day, observing social distancing, wearing masks where needed, etc. Positive comments were made on the day and the feedback after the event has been very encouraging. 
"Brilliant workshop with Fay Maxwell. Well organised and I felt safe, relaxed and friendly"
"I really enjoyed today and I'm looking forward to future meetings"
"Thoroughly enjoyed Saturday, so glad we finally managed to get Fay's workshop done."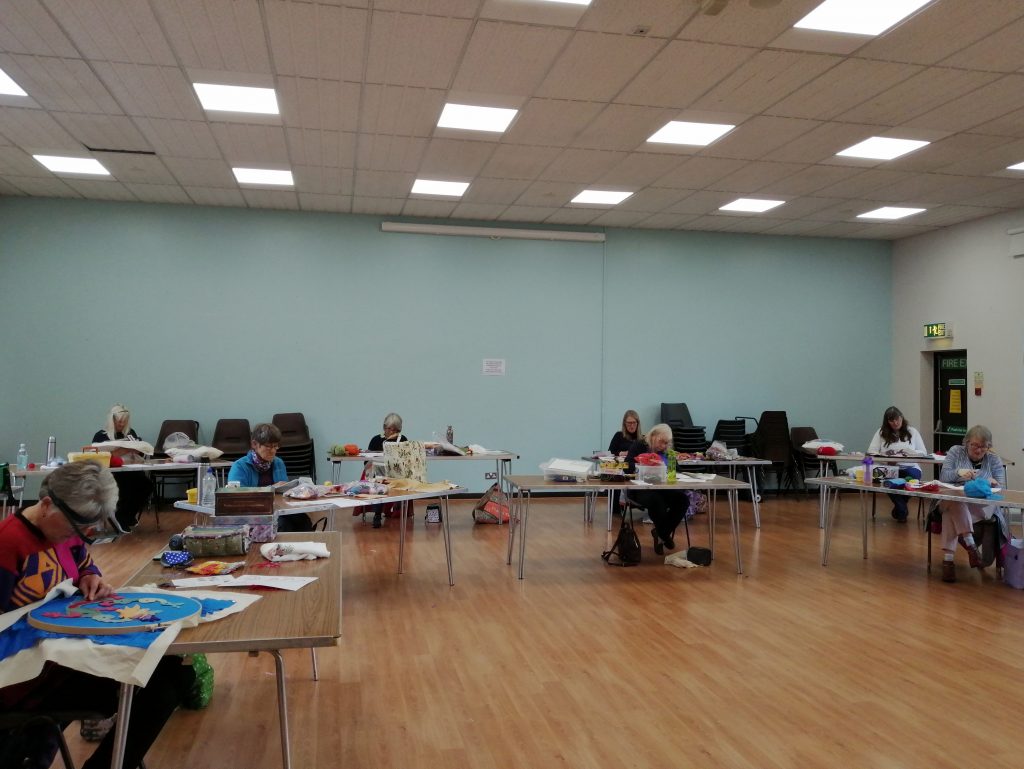 Bookings now being taken for our workshop with Angie Hughes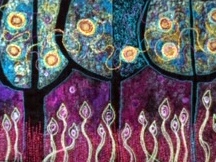 Following the success of our workshop with Fay Maxwell, we are now looking forward to our next workshop which is with Angie Hughes on 7th November.
Angie's workshop entitled 'Inspired by Hundertwasser' will involve collage, transfoils and machine embroidery on cotton velvet using Angie's unique foiling technique. If you would like to attend, please book your place with Jo at johet35@gmail.com
Bird Challenge winners were chosen and announced on 30th September by Richard McVetis
Congratulations go to Dorothy Luke, Susan Hammond and Carol Winter, winners of our Bird Challenge.  
The challenge was judged by Richard McVetis who said "So good to see so many entries and isn't it good to have embroidery to keep you sane in these crazy times.  All of them were really great"
Dorothy Luke's entry:  Bird of a feather flock together
"This is a well-known English saying that raises many questions..  Is it a good thing to partner only with people who are like us?… And what does ' like us' mean? What does it refer to? Clothes, social backgrounds, skin colours, values?…"
Sue Hammond's entry:  Tropical Toucan
"It's from A Year Of Embroidery by Yumiko Higuchi.
I chose it because I'm new to embroidery and chain stitch is my current favourite stitch!"
Carol Winter's entry: Just a bit of fun!
"I was not inspired to stitch a bird even though I had a few ideas. Having finished making facemasks for the family I had a bag of scraps which had to have a use. Why not make a bird and so Covidinia facemaskus was hatched.
We were delighted that 19 members took up the challenge and submitted 24 entries in total.
More members than ever are taking part in our Travelling Books project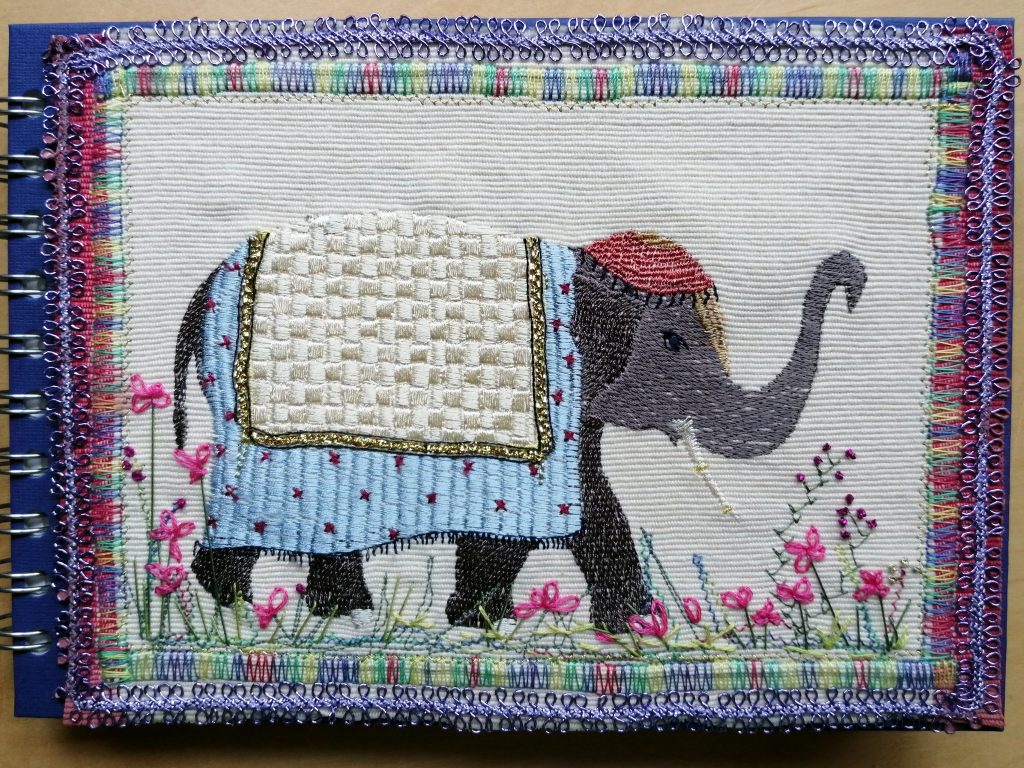 We are delighted that twenty members have now joined this project.
Members can join at anytime and if you would like to, please contact Mel Ward at melward@ntlworld.com.
This year (2020 – 2021) we have forty-three members, last year we were a branch with thirty-seven members. We have grown because to date thirty-two existing members have renewed and eleven new members have joined us.
With face to face meetings beginning, a great programme for 2021 coming together and a healthy bank balance, despite the challenges of this year, next year is looking good.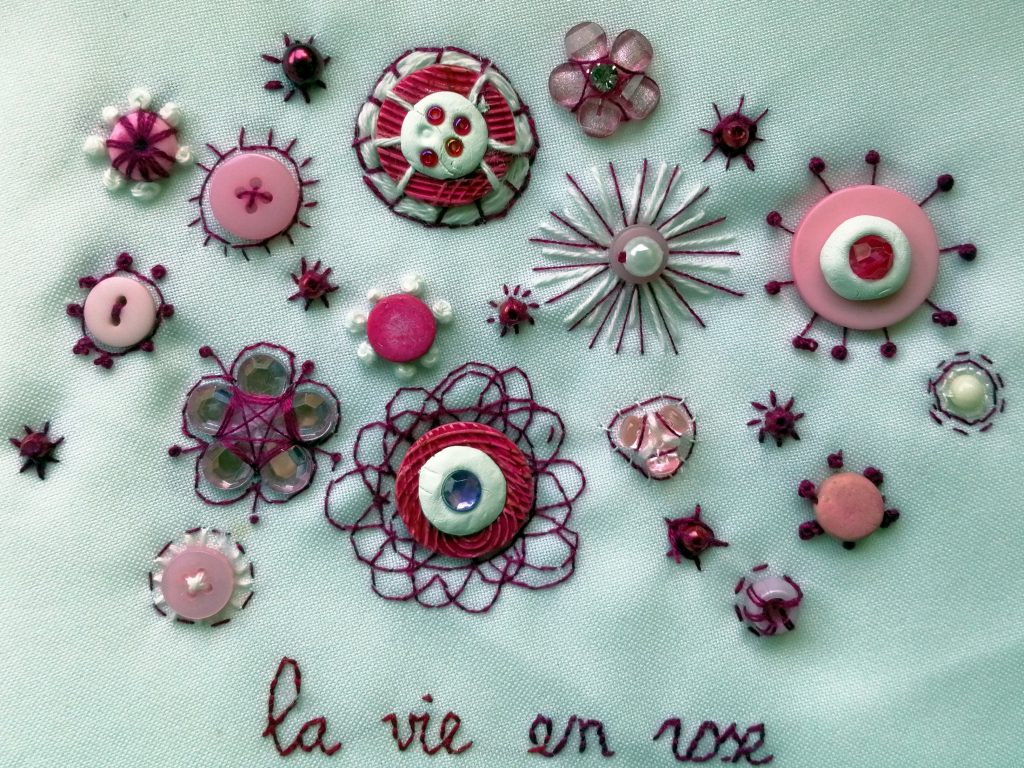 Our September Zoom meeting attracted our largest audience yet
Almost thirty members met online to see Richard McVetis talk about 'The potential of stitch'.
Richard spoke about his use of a range of media, including drawing, installation, and textiles, to explore his perception of space and time.
The mapping of space and marking time and form are central themes. Ideas are often developed in response to, or created specifically to a moment, visualising and making this a tactile and tangible object. The pieces created explore how objects, materials, and places, through the action of hands, bear witness to the passing of time, of the mundane and of the everyday.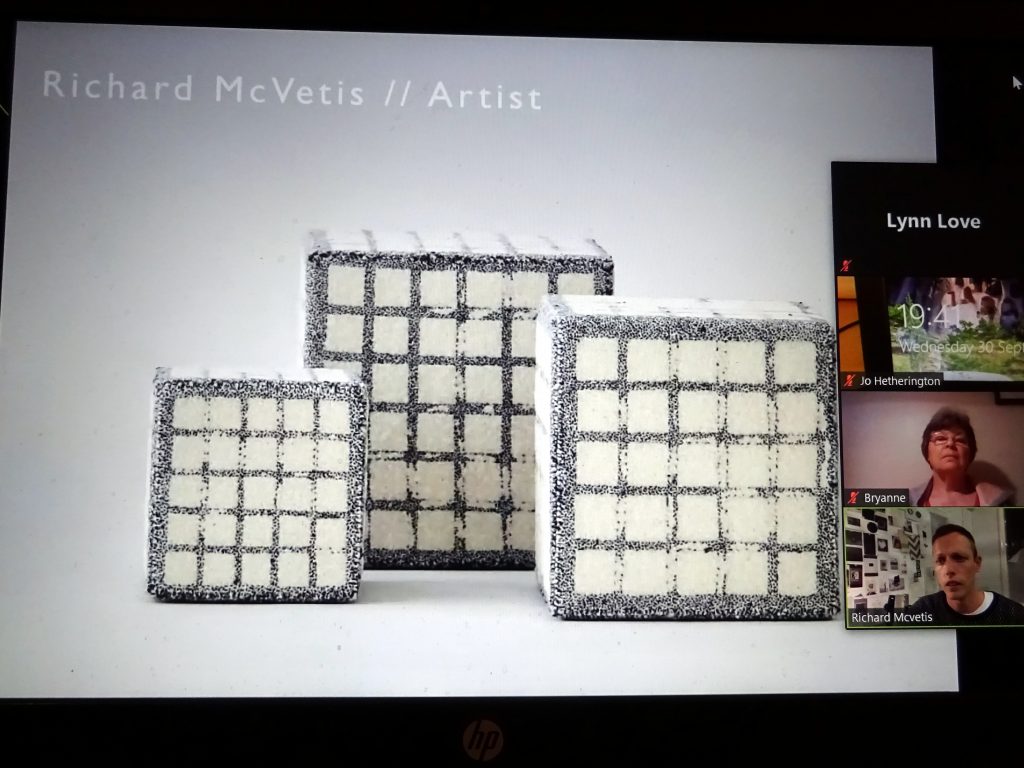 Shop now open on Fine Needlework website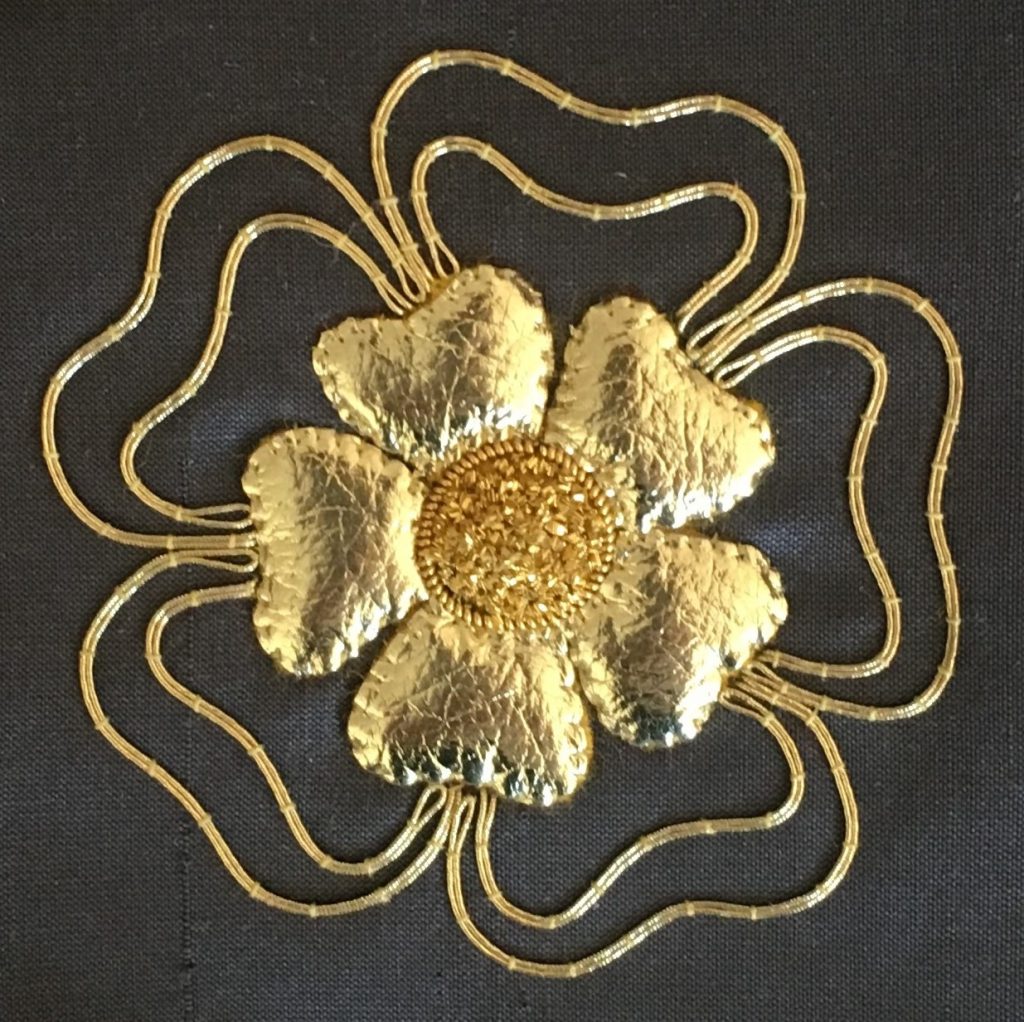 Our member Rosie McKellar is the embroiderer behind Fine Needlework and Rosie has opened a shop on her site.
Fine Needlework aims to provide:
Innovative embroidery designs
Embroidery supplies, particularly for goldwork (more being added daily)
Selection of fabrics, including the unique Kiwiana range
A vintage/antique section that lists embroidery tools and other related items
Guild members are welcome to make an appointment to visit Rosie if they want to see before they buy or to contact her if they have a specific request for something that isn't on the website.
Online Embroidery Workshops with Richard McVetis
 If you enjoyed our Zoom meeting with Richard last month, you may be interested in his online workshops where you can explore a combination of traditional hand embroidery techniques, how you do it, and why you do it. Explore the slowness and rhythms of hand stitching; the versatility and strengths of embroidery for drawing and mark-making; and the pleasure in having time to make.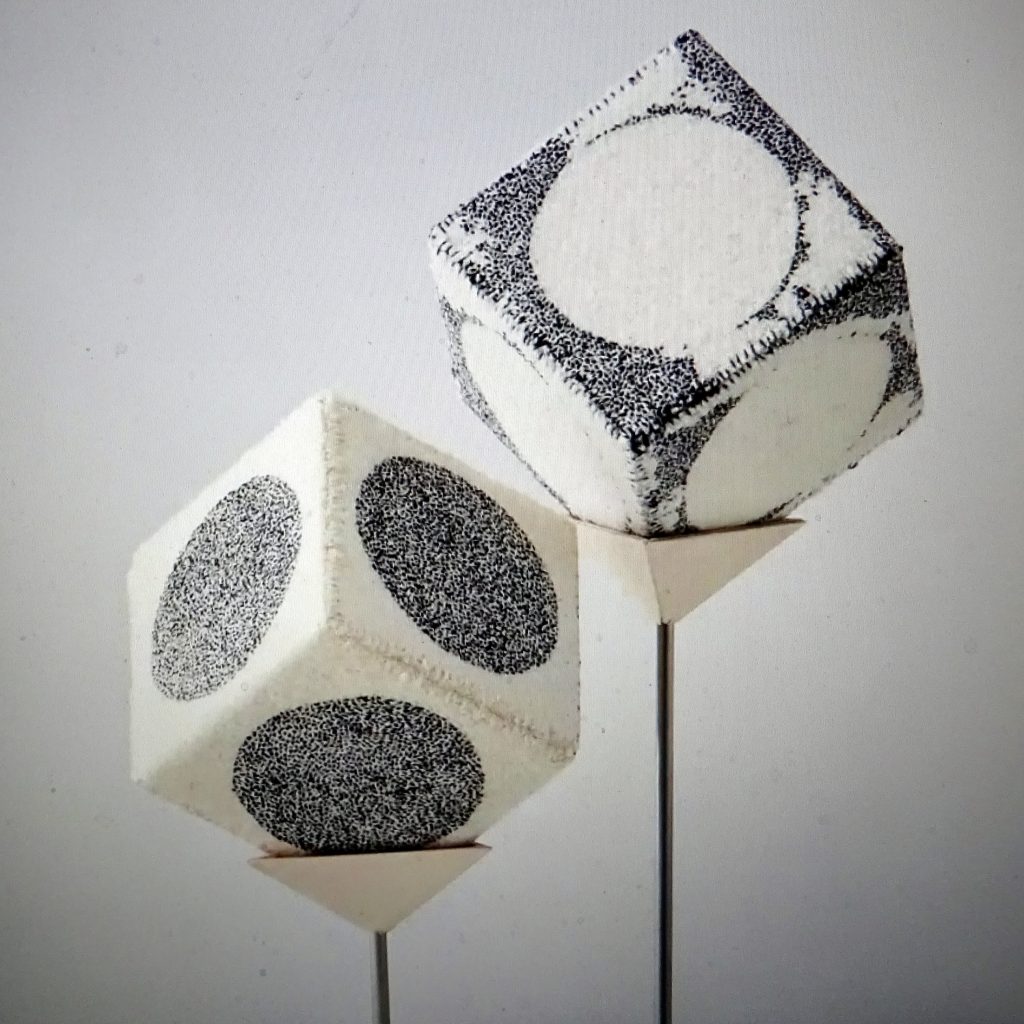 Anne Beckingham was the lucky member who won the competition to have her portrait drawn by Harriet Riddell at our August meeting
At this additional meeting, textile artist Harriet Riddell started by drawing Anne on her sewing machine via Zoom. Just amazing!
 Harriet went on to describe her intrepid life, stitching live scenarios with a sewing machine in many far flung parts of the world. She spoke of how she built up a rapport with those around her.
We look forward to next March when Harriet is running a workshop for us.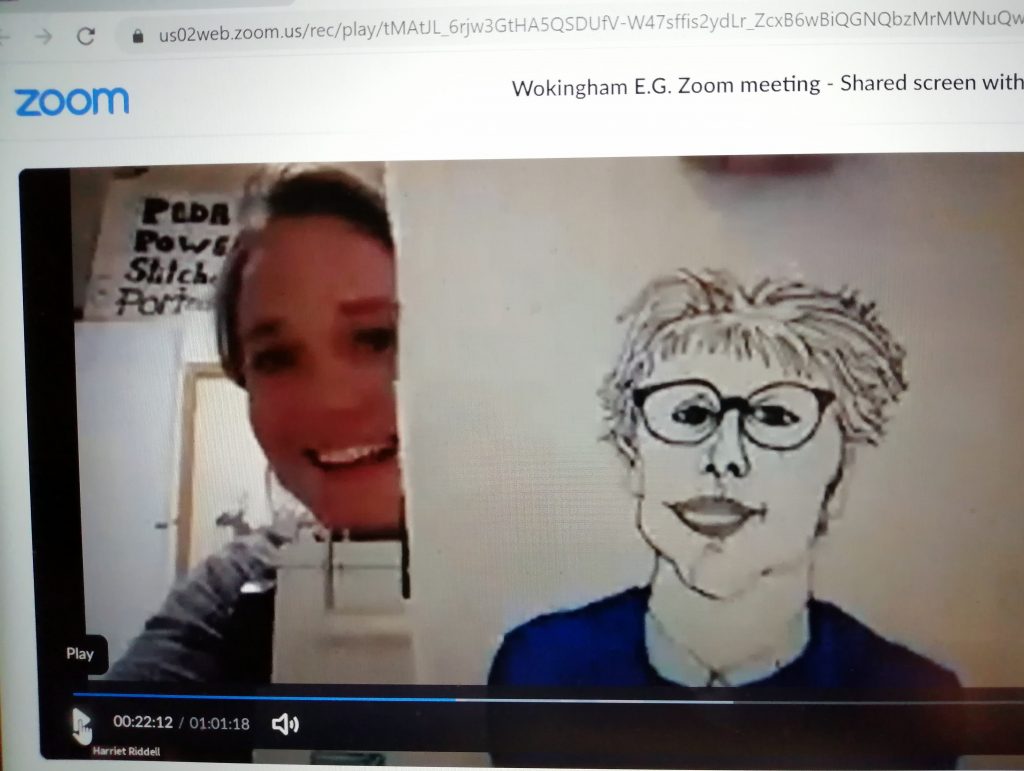 Embroiderers' Guild has teamed up with Aurifil to provide online courses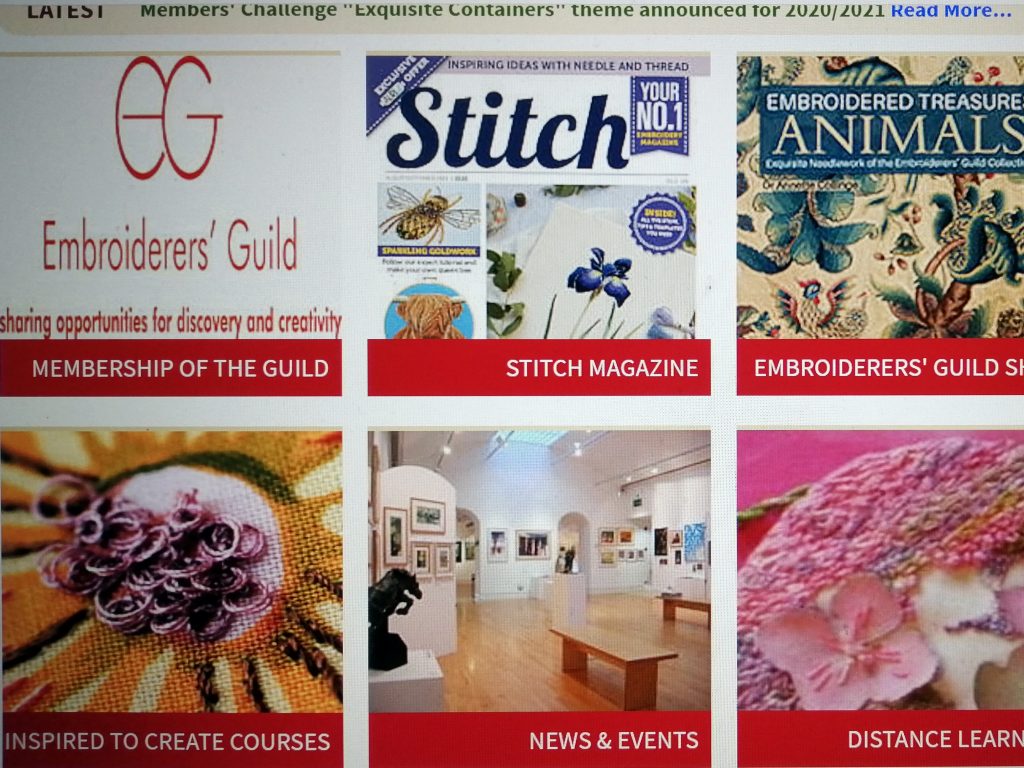 Aurifil have put out a blog about the partnership and the new distance learning courses 'Inspired to Create' which is now available! Go to the Embroiderers' Guild website for more information or to book a course.
Exhibition of our work in Wokingham Library in November and December has been cancelled
The library has let us know that they have cancelled all exhibitions they had booked until further notice. We had planned to exhibit all entries to our 'Bird Challenge' during November.
We are keen to show members creativity to as wide an audience as possible. If you have any suggestions as to where we could hold an exhibition, please let the committee know using the Contact Us form on our website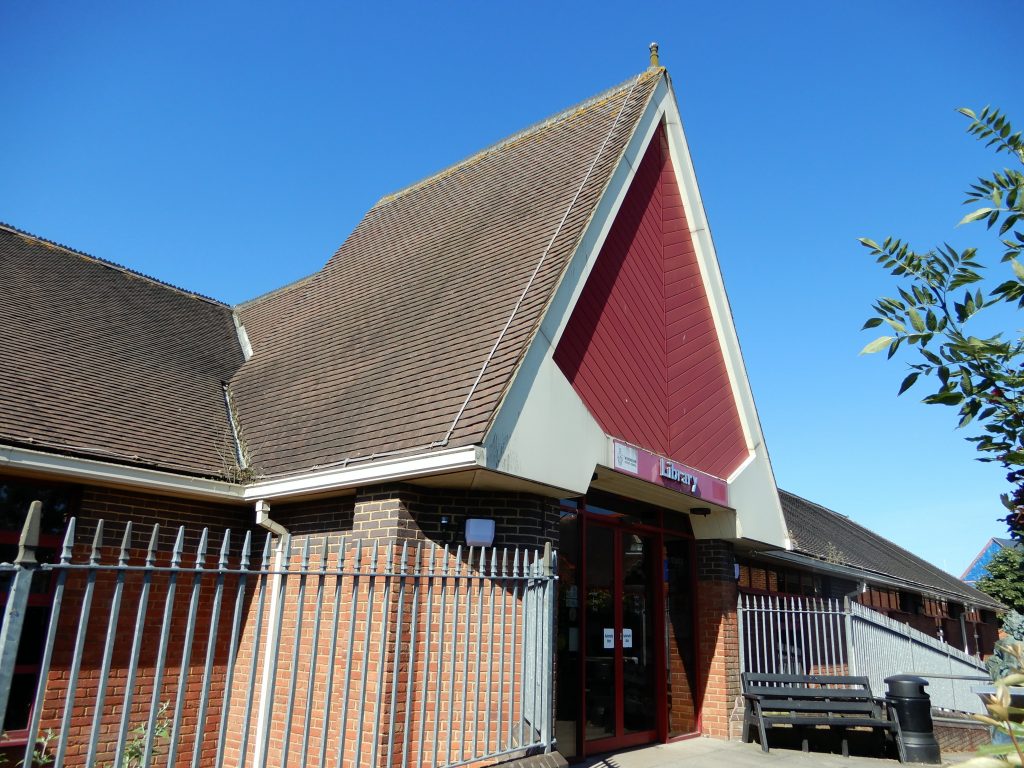 Branch Summer Challenge 2019
We were delighted that Stitchery Do, our local stitching and knitting business kindly sponsored our branch challenge in 2019. The theme of the challenge was 'Reuse, recycle and up cycling'. This resulted in a very wide range of interpretations.
All thirteen entries to our challenge were displayed in the Stitchery Do shop in Wokingham.
Congratulations to our winners Jo Hetherington, Carol Hegarty and Sue Newport.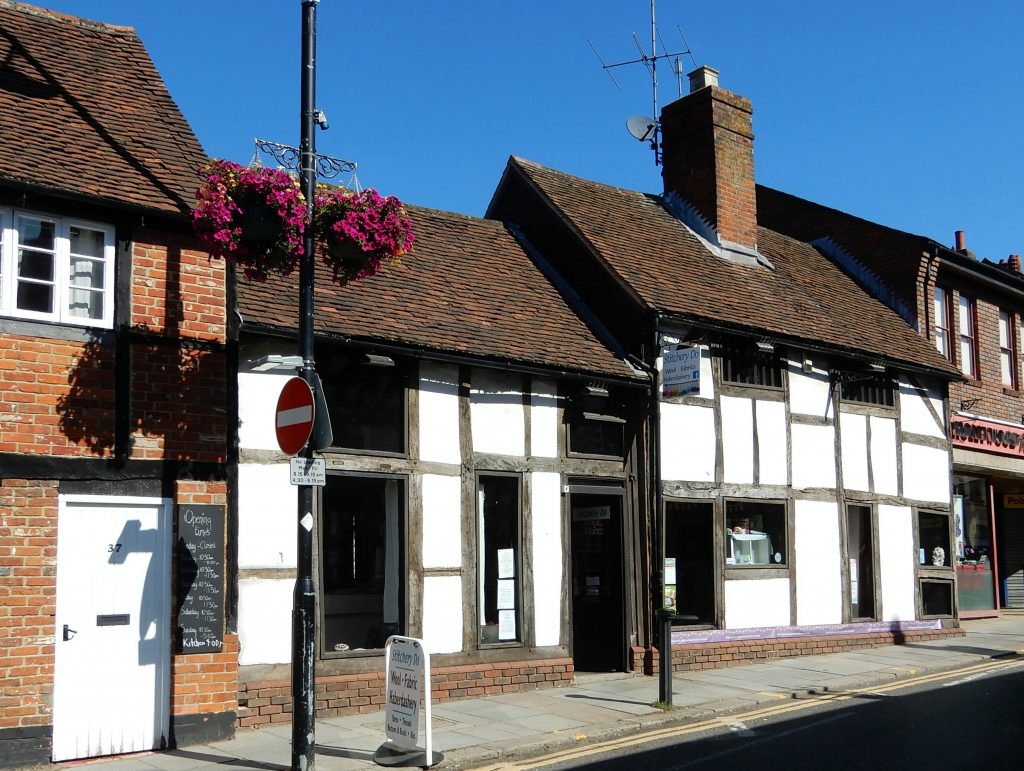 A STITCH IN TIME Exhibition during May and June 2019 in Wokingham Library
A Stitch in Time exhibition at Wokingham Library featured a wide range of embroidery including both hand and machine embroidered textile art. The exhibition was well attended and several people contacted the branch to purchase exhibits.
We have been asked to stage another exhibition at the end of 2020.