BIG NEWS! New project for this year: FABRIC JOURNAL! Has started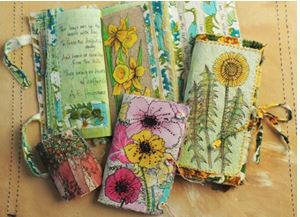 We kicked of the Fabric journals in January and just to recap …. There will be a monthly meeting (details on the program page  next meeting) to look at what has been completed from the last topic and for Dorothee to set the topic for the coming month. You can join at any time, take part in the topics that interest you, most of all have some fun.
We will look at the work that has been completed during the month and then we can display in the newsletter and on the website
Everybody is welcome to attend the meeting
This is how does it works….. just a reminder
This journal is your journal. You will keep it for the whole year and you will have the opportunity to show it if you wish to at our show and tell meeting in August and in December to celebrate the year we have spent together.
Dorothee is going to organize a very informal zoom meeting each month in which she is going to give you a theme. She will show you pictures of artists she has found according to different interpretations of the theme. Your task will be to complete a piece of work related to that theme in the way you want to and according to your own interpretation. There is no right and wrong. You can use anything to decorate the pages if you want to, buttons/things you have collected on a walk/ beads/flowers. The aim of this project is to have fun, we are not looking for masterpieces!
Each month, you'll have the opportunity to send a picture of your work to the working party and Dorothee will show your pictures at the beginning of the zoom meeting. You will be able to comment on the picture if you wish to. We will then put the pictures in the new section called:' Fabric journal' on the website.
Details of the next meeting can be found in the program. 
March meeting - Elin Petronella - Relax and Get Creative with Modern Hand Embroidery
Introduction to the work of Elin Petronella and Charles Henry – the French/Swedish married embroidery duo who are best known for their architectural sceneries from around Europe. Get an insight into how they discovered and developed their modern take on embroidery with examples from their work (planning, designing and realisation) as well as their mission to spread the power of thread and needle to the world.
Elin Petronella: charlesandelin.com
Her book: https://charlesandelin.com/mindful-embroidery-book/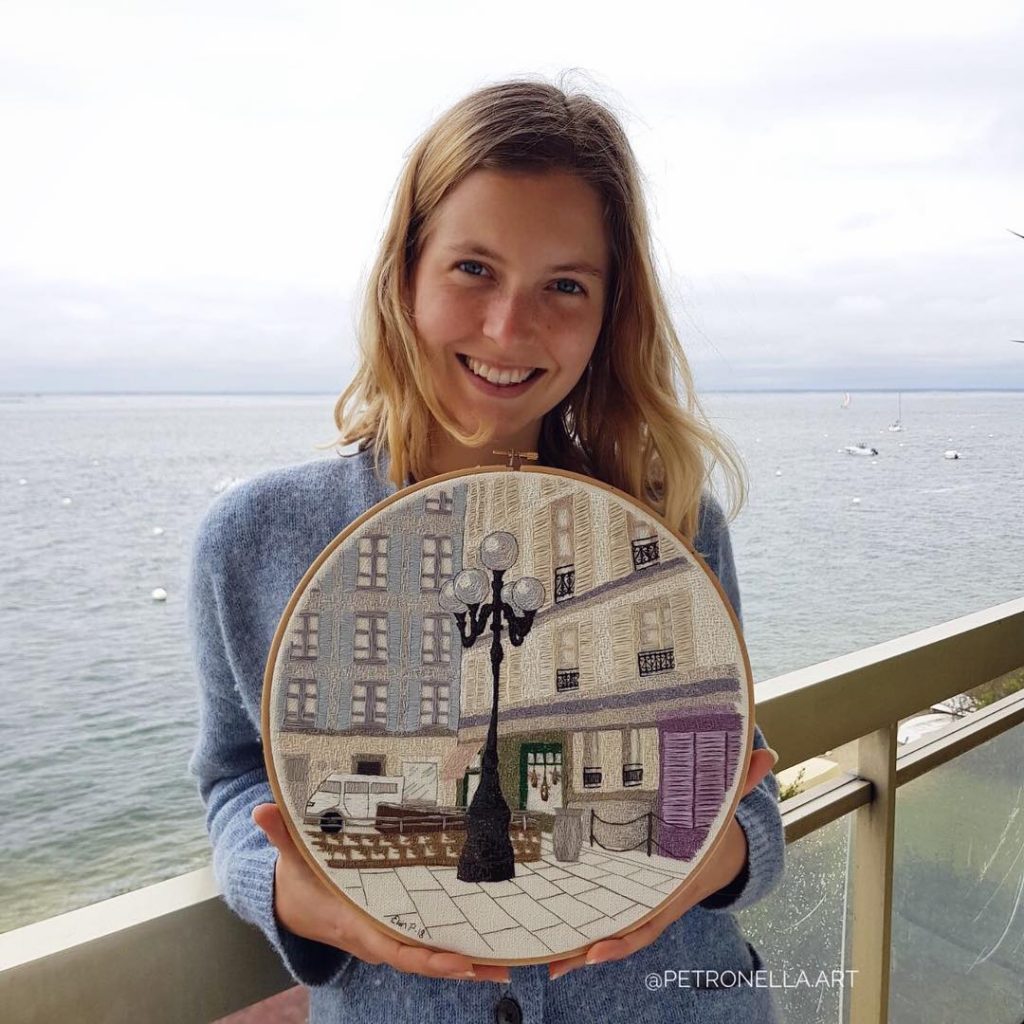 Would you like any of these books?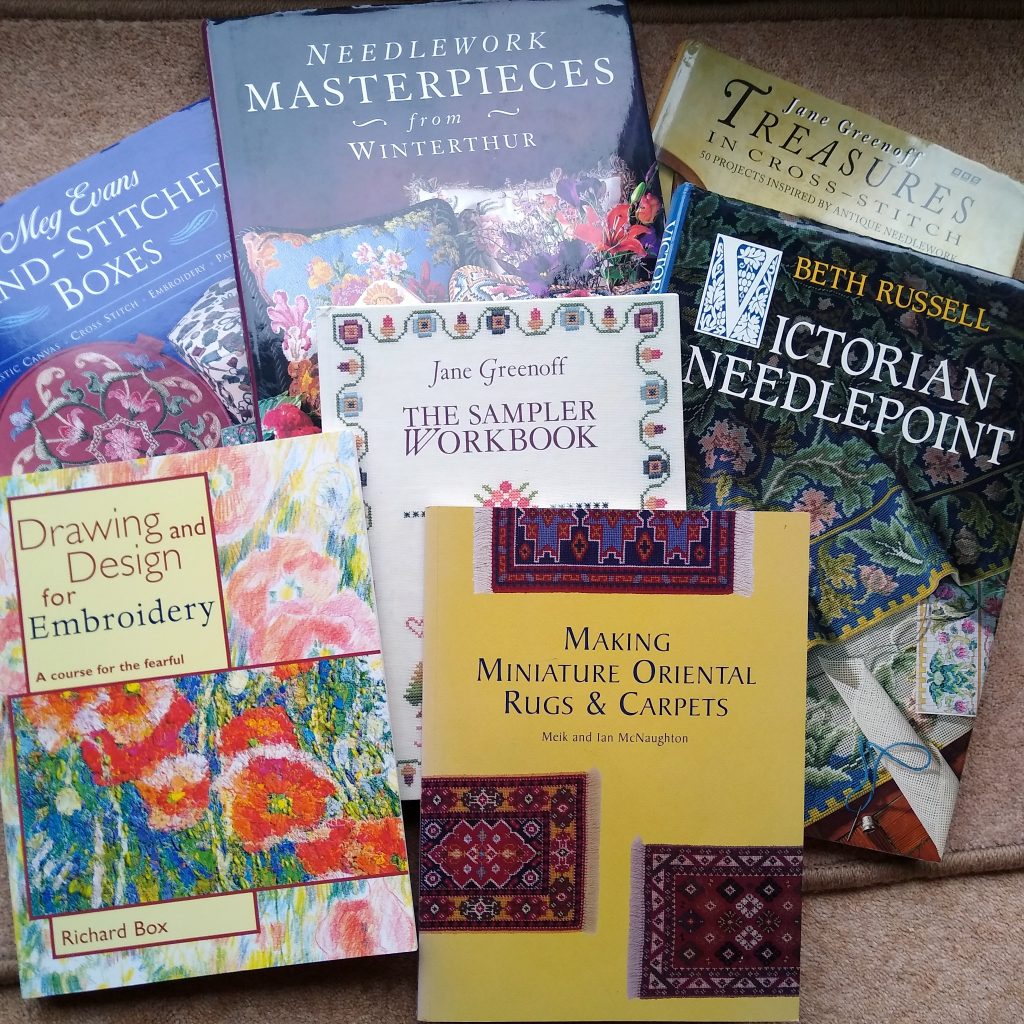 We have these books. Could you find any useful? You are welcome to any or all of the books, please just make a donation to the branch.
If you are interested in having any of these books, please contact Maggs at maggs@carver74.plus.com
Would you like any patterns for making women's clothing?
We have a number of patterns for a wide range of women's clothes. Could you find any useful? You are welcome to any patterns, please just make a donation to the branch.
As you can see from the photograph of a small number of the patterns, the items of clothing include skirts, blouses, trousers, jackets and dressing gowns. If you are interested in having any patterns, please contact Maggs at maggs@carver74.plus.com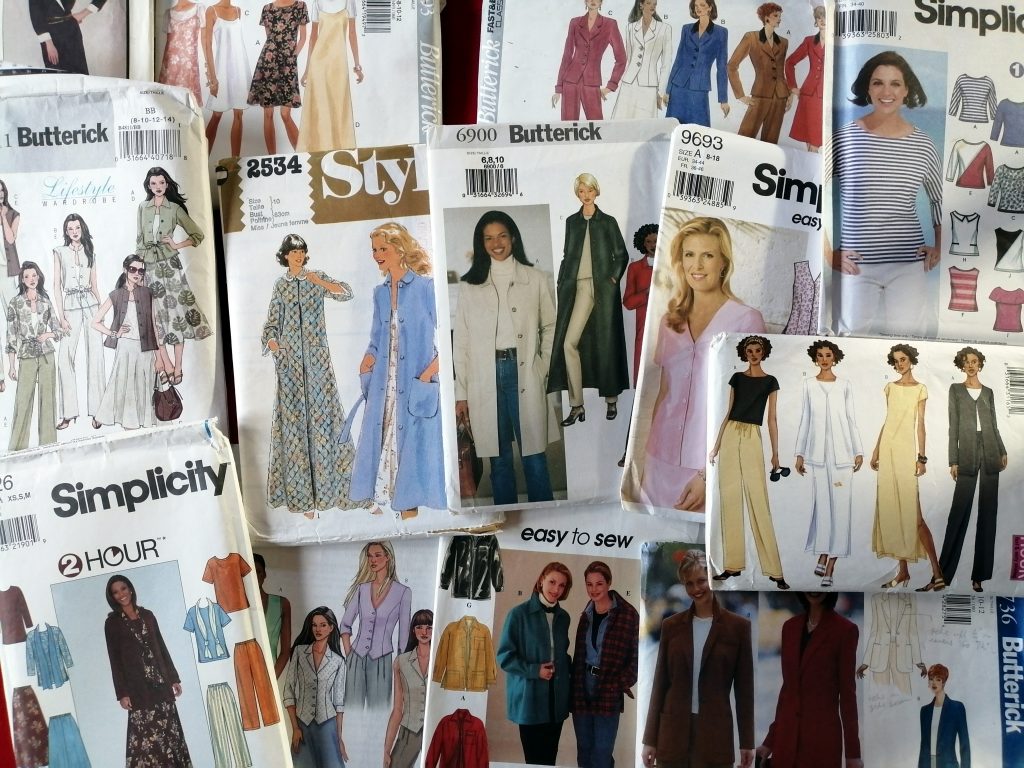 Members' Challenge 2020: Bird
Congratulations go to Dorothy Luke and Susan Hammond, two winners of our Bird Challenge.  
The challenge was judged by textile artist Richard McVetis who said "So good to see so many entries and isn't it good to have embroidery to keep you sane in these crazy times.  All of them were really great"
Dorothy Luke's entry:  Bird of a feather flock together
"This is a well-known English saying that raises many questions..  Is it a good thing to partner only with people who are like us?… And what does ' like us' mean? What does it refer to? Clothes, social backgrounds, skin colours, values?…"
Sue Hammond's entry:  Tropical Toucan
"It's from A Year Of Embroidery by Yumiko Higuchi.
I chose it because I'm new to embroidery and chain stitch is my current favourite stitch!"
We were delighted that 19 members took up the challenge and submitted 24 entries in total.
Branch Summer Challenge 2019
We were delighted that Stitchery Do, our local stitching and knitting business kindly sponsored our branch challenge in 2019. The theme of the challenge was 'Reuse, recycle and up cycling'. This resulted in a very wide range of interpretations.
All thirteen entries to our challenge were displayed in the Stitchery Do shop in Wokingham.
Congratulations to our winners Jo Hetherington, Carol Hegarty and Sue Newport.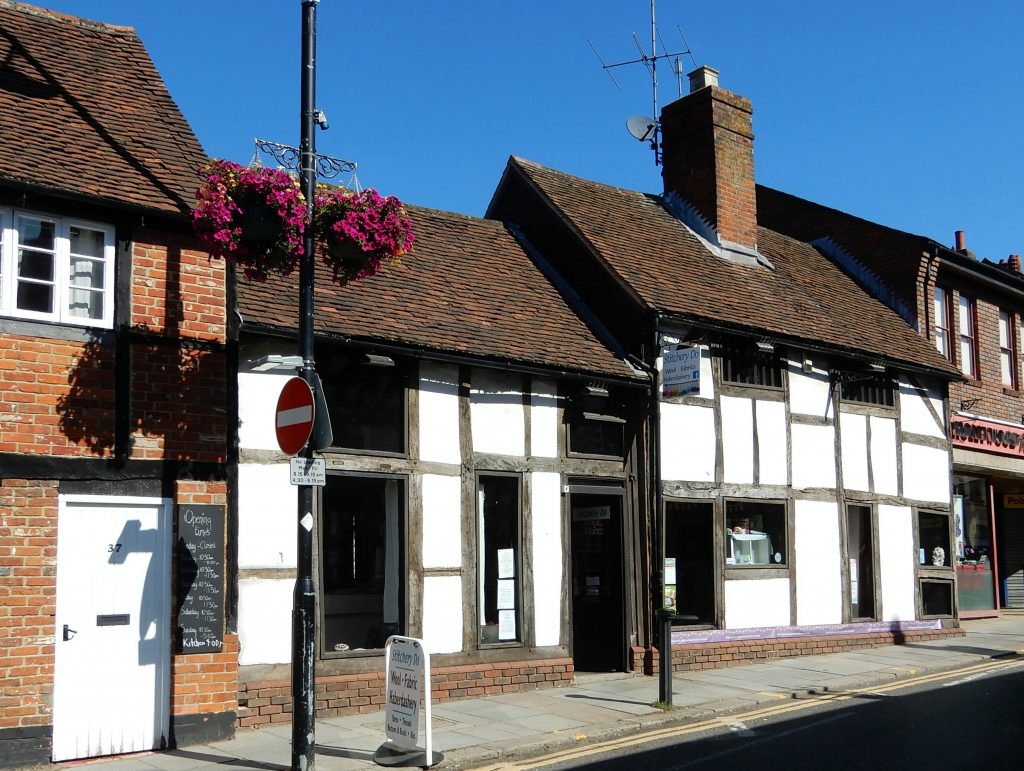 A STITCH IN TIME Exhibition during May and June 2019 in Wokingham Library
A Stitch in Time exhibition at Wokingham Library featured a wide range of embroidery including both hand and machine embroidered textile art. The exhibition was well attended and several people contacted the branch to purchase exhibits.
We have been asked to stage another exhibition at the end of 2020.